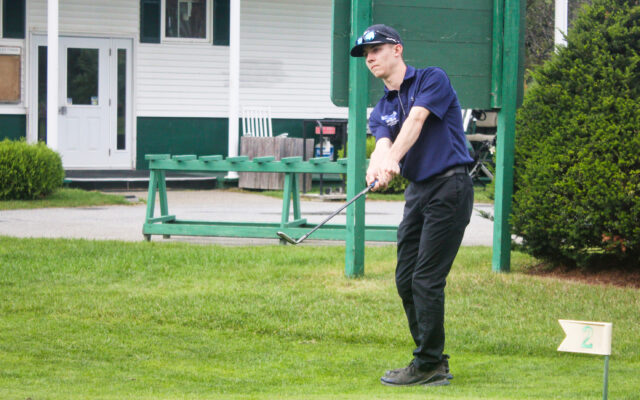 golfmad
FORT KENT, Maine -- September 10, 2021 -- Sam Dufresne of Madawaska practices pitching on the putting green ahead of a Friday, Sept. 10 golf match at Fort Kent Golf Club. (Jessica Potila | St. John Valley Times)
Golf meet about improving personal best
FORT KENT, Maine — Student athletes from three Aroostook high schools with too few players to form golf teams met up for a match that was about competing with their personal best scores rather than with one another. 
Fort Kent Community High School has only two players as does Madawaska Middle/High School. The four are coached by Kelly O'Leary and practice at Fort Kent Golf Club, however, the two Madawaska athletes remain Owls. 
Hodgdon Middle-High School has only three players. 
The three teams, which cannot contribute team scores because they lack the Maine Principals Association requisite minimum four players, worked on their individual scores at a Friday, Sept. 10, meet in Fort Kent.
Madawaska junior Sam Dufresne decided to forego soccer this season in favor of playing golf, since both are fall sports.
"I just enjoy golf more than soccer," Dufresne said. "I learn how to have more patience with myself, to trust myself and have more confidence." 
"I'm a bit disappointed we don't have a team but I'm glad to be able to play this year and still represent Madawaska," Dufresne added.
Dufresne shot the second lowest score of the 9-hole match, with a 46 that included a birdie and a par.
Kaden Theriault of Fort Kent topped the match with 44, including four pars. 
Hodgdon scores were George Gaddis and Joseph Griffin each with 54, while David Tuttle shot a 53.
Warrior Alex Nadeau shot a 49 and Owl Cameron Desrosier a 47.
"It's a team sport but it's also very much an individual sport," Hodgon Coach Mike Fleming said. "It's a sport you can play when you're 75 or 80 years old."