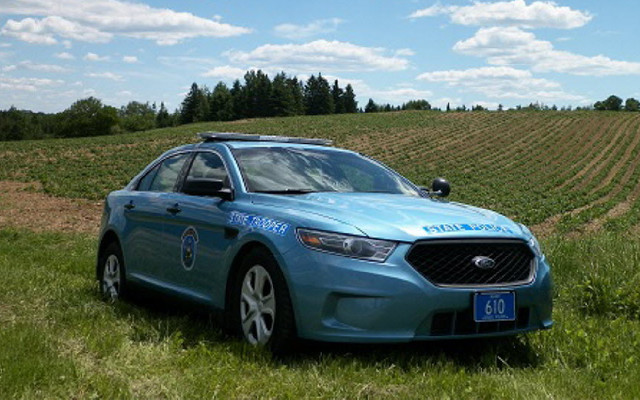 MSP_F
Maine State Police - Troop F - Aroostook County.
Maine State Police Troop F Report, July 25-Aug. 1, 2021
Editor's Note: An arrest or summons does not constitute a finding of guilt. An individual charged with a crime is presumed innocent unless and until proven guilty at criminal proceedings.
HOULTON, Maine — The Maine State Police Troop F barracks in Houlton responded to a number of calls for service during the period of July 25-Aug. 1, including the following.
Sunday, July 25
OAKFIELD — Trooper Castonguay was driving through Oakfield when he observed a man, whom he recognized and knew had active bail conditions, consuming liquor. Tr. Castonguay conducted a bail check on the man and at the end of his investigation, issued the man a criminal summons for violating his conditions of release by using/possessing liquor.
ISLAND FALLS — Tr. Castonguay was in Island Falls and recognized a man whom he suspected had active bail conditions. A computer query revealed a warrant for the man failing to appear in court for multiple charges. Tr. Castonguay arrested the man on the warrant and transported him to the Aroostook County Jail in Houlton.
Monday, July 26
AUGUSTA — Tr. Curtin attended a weeklong training as part of the Evidence Response Team.
Tuesday, July 27
MAPLETON — At approximately 1 a.m. State Police received a report of a motor vehicle crash on Route 163 in Mapleton. Tr. Andrew Levesque and Tr. Steven Mahon responded and determined that an International flatbed wrecker was hauling a 2007 GMC pickup traveling west on Route 163 when the wrecker left the roadway, striking an embankment and coming to rest in the ditch. The cab and engine compartment of the wrecker were burned completely. The GMC pickup flew off the flatbed and rolled over into the roadway, coming to rest on its side, blocking both lanes of traffic. Neither of the vehicles had registration plates. The driver of the wrecker fled the scene and was likely injured. The crash remains under investigation by Tr. Mahon.
Wednesday, July 28
VAN BUREN — Tr. Levesque met with a Van Buren resident after she reported fraudulent use of her credit card. The woman was working with her bank in order to rectify the situation and the investigation is ongoing.
Thursday, July 29
FORT FAIRFIELD — Tr. Mahon responded to a vacant house after the caretaker for the property discovered it had been broken into. Evidence was collected and the investigation is ongoing.
Friday, July 30
OAKFIELD — Tr. Saucier took a theft report from a camp in Oakfield. The caller reported someone had stolen a 100-pound Dead River tank with regulator. The investigation is ongoing.
LITTLETON — Tr. Laney Merchant and FTO Tr. Mahon responded to Route 1 in Littleton for a report of a multi-vehicle crash with injury involving a van, a passenger car and a tractor trailer unit. A 2005 Dodge van, operated by Robert Havrin, 65 of Lake Bluff, Illinois, was southbound on Route 1 when it drifted onto the shoulder of the road, striking a guardrail, and veering across the road into the path of a northbound tractor trailer. The tractor trailer was a 2020 Freightliner owned by Ascent Trucking and operated by Bruce Hanning, 67, of Houlton. Hanning could not avoid Havrin's vehicle and they collided head-on in the northbound lane. The tractor trailer continued on, jackknifing in the roadway, and there was a secondary crash involving a 2014 Subaru passenger car traveling south. The Subaru was operated by Staci Merritt, 30, of Hodgdon, and Merritt could not avoid striking the rear of the tractor unit. Merritt suffered minor injuries and was transported to Houlton Regional Hospital, where she was treated and released. Hanning was not injured in the crash. Havrin suffered serious injuries in the crash and was pronounced deceased at the scene. Tr. Merchant was assisted by Lt. Harris, Tr. Saucier, Tr. Sylvia and personnel from Houlton and Littleton fire departments, Houlton Ambulance, Maine DOT and DEP. Rt 1 was shut down to all traffic for approximately eight hours while the investigation was conducted.
Sunday, Aug. 1
BRIDGEWATER — Tr. Cotton stopped a vehicle in Bridgewater for an expired inspection sticker and a vehicle defect. Tr. Cotton identified the operator as a local woman and discovered that she had an outstanding warrant for her arrest for failing to appear on multiple charges. Arrangements were made for the vehicle to be secured at another location and then the operator was arrested and transported to the State Police barracks, where she was able to post bail on her warrant and was later released. 
FORT KENT — Tr. Martin stopped a vehicle in Fort Kent after a registration check revealed that the license plates on the vehicle belonged on a different vehicle. Once the stop was made, Tr. Martin learned that a local woman had falsely attached the plates from another vehicle. She was cited to Fort Kent District Court for the registration violation and the vehicle was towed from the scene.