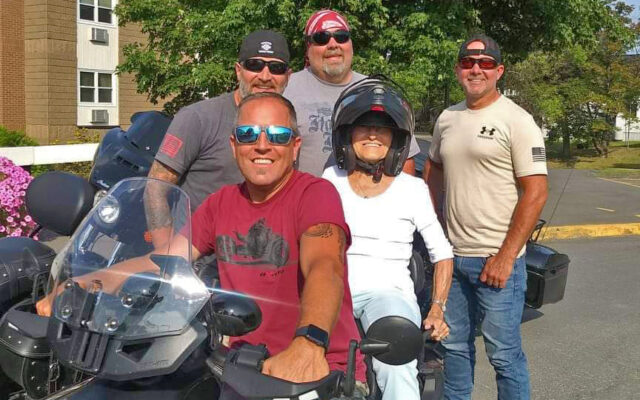 SJ-BikeSurprise-083121
MADAWASKA, Maine -- August 31, 2021 -- Ginette Dugal (on back of bike), a resident of La Maison Acadienne in Madawaska, boards her son, Mark Dugal's, motorcycle. He and friends (in no particular order) Tyler Fitzpatrick, Roger Goudreau and Barry Gaorbenstien rode to Madawaska from Lisbon Falls to take her to dinner. (Courtesy of La Maison Acadienne)
Son travels 300 miles to take mom to supper
MADAWASKA, Maine — A Madawaska woman received quite a surprise when her son and some friends arrived to take her out to eat dinner — after a 300-mile trip on their motorcycles.
Ginette Dugal, a resident of La Maison Acadienne, enjoyed the time with her son, Mark Dugal, who traveled to The County from his home in Lisbon Falls with buddies Tyler Fitzpatrick, Roger Goudreau and Barry Garbenstein.
Ginette rode in style on the back of her son's bike and the group enjoyed a meal at a local restaurant to round out the visit. Following dinner, the men set out for home again.
"That is over 600 miles traveled, round trip, on bike for this wonderful date," said La Maison Acadienne and Montfort Heights Resident Service Coordinator Jessica Savoie, who added Madame Ginette was truly lucky to have such a unique adventure.