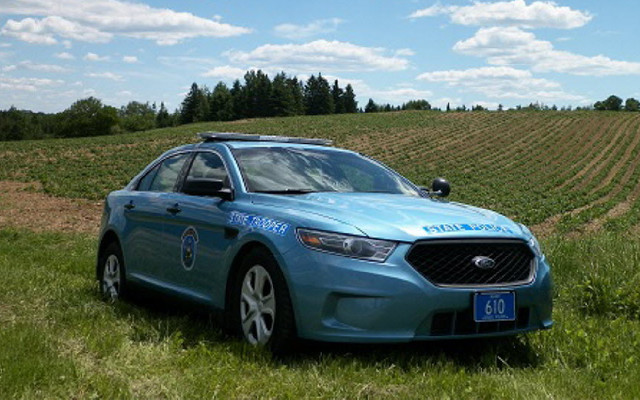 MSP_F
Maine State Police - Troop F - Aroostook County.
Maine State Police Troop F Report, July 19-25, 2021
Editor's Note: An arrest or summons does not consteitute a finding of guilt. An individual charged with a crime is presumed innocent unless and until proven guilty at criminal proceedings.
HOULTON, Maine — The Maine State Police Troop F barracks in Houlton responded to a number of calls for service during the period of July19-25, including the following.
Monday, July 19
OAKFIELD — Trooper Castonguay was driving on Spaulding Lake Road, Oakfield, and stopped a vehicle for a traffic infraction.  Further investigation revealed the man had a suspended driver's license for not complying with orders from his physician.  The man was issued a criminal summons for operating after suspension and arranged to have a licensed driver come get him and the vehicle.
HOULTON — Tr. Sylvia arrested a 36-year-old Houlton man after he turned himself in at the barracks and found to have an outstanding warrant.  Tr. Sylvia transported the man to the Aroostook County Jail where he was bailed from the parking lot by a bail commissioner.
EASTON — Tr. Mahon took a report of theft from a business in Easton who sold a vehicle to a man from Dayton back in May and he refused to return the dealer plate and had racked up $200 in unpaid tolls.  Tr. Mahon contacted the man and he agreed to mail the plate back along with money to cover the tolls. 
MASARDIS — Tr. Saucier handled a civil complaint in Masardis in reference to a dispute over damage to a utility trailer.  The owner now alleged she was threatened by the man she accused of damaging the trailer.   Tr. Saucier and Sgt. Haines responded and spoke to both parties.  Both parties were advised to speak to an attorney in reference to the trailer dispute and given harassment warnings.
Tuesday, July 20
BLAINE — Tr. Kilcollins located a man he had been looking for who had two active arrest warrants in Blaine.  The man had been avoiding Tr. Kilcollins for about a week before he was located.  Tr. Kilcollins arrested him without incident and transported him to the Aroostook County Jail in Houlton.
MARS HILL — Cpl. Quint responded to Mars Hill for a report of a suspicious vehicle parked at an abandoned house.  When he arrived, he found a man sleeping in the truck seat.  After waking, the man said he was there working on the house, then changed, stating he was waiting for someone that was working on the house, and then later said he did not have any other place to go.  The property is owned by the man's grandfather.  He was issued a trespassing warning after the owner stated he was not welcome there.  The man was arrested on an active warrant and transported to the Aroostook County Jail in Houlton.
PRESQUE ISLE — Tr. Levesque, Sgt. Fuller and Cpl. Michaud assisted the Presque Isle Police Department when a vehicle was stolen from Main Street in Presque Isle when the owner went into a grocery store and left it running because his dog was inside.  The police department located the vehicle and a pursuit ensued shortly after.   The offenders took a dead-end street in Caribou and fled on foot.  Later in the evening, the pair was identified, and Sgt. Fuller and Tr. Levesque located the man and woman while they were walking in Caribou. They were arrested and transported to PIPD.  The dog was also located in Westfield after being let out of the vehicle by the offenders.  The pair is facing a multitude of charges including cruelty to an animal and eluding.
Thursday, July 22
HOULTON — Tr. Merchant was in Houlton when she observed a vehicle with an expired inspection sticker.  Tr. Merchant pulled the vehicle over and learned that the man was from Florida and his license was expired.  He was cited for the violation and a passenger with a valid license could drive the vehicle from the scene.
Friday, July 23
PORTAGE LAKE — ​​Tr. Curtin and Sgt. Haines responded to Portage Lake for a report of a large gathering with a live band disrupting the neighborhood.  Upon arrival the band had stopped and approximately 10 remained at the camp.  The owners were warned for the noise and were cooperative taking the gathering inside.
Saturday, July 24
ST. AGATHA — Tr. Desrosier was conducting traffic enforcement and observed a motorcycle speeding.  He stopped the bike and after investigating determined the man attached false registration plates to the machine.  The man took plates from another motorcycle he owns and put them on the machine he was riding.  Tr. Desrosier issued the man a criminal summons for attaching false plates and had the motorcycle towed from the roadway.
CARIBOU — Sgt. Haines conducted firearms qualifications pursuant to HR 218 for retired Border Patrol Agents in The County at the request of their agency.
CARY PLANTATION — Tr. Sylvia was called to a residence in Cary Plantation for a report of a burglary.  The residence had been left vacant and the family member reported various items missing.  The case remains under investigation.
VAN BUREN — Tr. Mahon was called to Van Buren for a report of a theft from a motor vehicle.  The female involved had multiple other calls for service in the last two days for neighborhood disputes and this time committed a crime where she was arrested and charged with theft and violating condition of release.
Sunday, July 25
OAKFIELD — Tr. Castonguay was driving through Oakfield when he observed a man, whom he recognized and knew he had active bail conditions, consuming liquor.  Tr. Castonguay conducted a bail check on the man and at the end of his investigation, issued the man a criminal summons for violating his conditions of release by using/possessing liquor.
ISLAND FALLS — Tr. Castonguay was in Island Falls and recognized a man whom he suspected had active bail conditions.  A computer query revealed a warrant for the man failing to appear in court for multiple charges.  Tr. Castonguay arrested the man on the warrant and transported him to the Aroostook County Jail in Houlton.