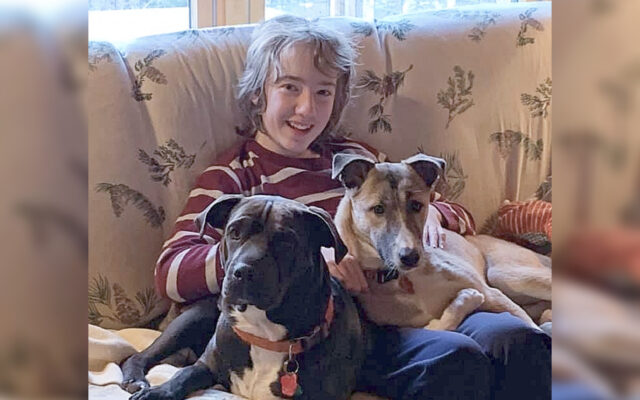 SJVT-Puppy-1-071421
WALLAGRASS, Maine -- July 14, 2021 -- Daniel Morgenthaler with the family dogs, Nola (left) and Indy. (Courtesy of Melanie Hartt)
New import restrictions will ban dogs from 113 countries at high risk for rabies
FORT KENT, Maine —  U.S. Centers for Disease Control and Prevention has issued a temporary suspension effective July 14 on dog imports from 113 countries considered at high risk for dog rabies. 
Many are war-torn countries from which U.S. rescue organizations transport the dogs to homes in the United States. 
Despite already strict requirements on dog imports including proof of rabies vaccination, four rabid dogs have been imported to the United States from high risk countries since 2015. None of the rabid dogs were transported to Maine.
"CDC assesses the importation of even one rabid dog to be serious because rabies is nearly always fatal in people and animals once symptoms appear," CDC representative Federico Feldstein said. 
The rabid dogs arrived in the United States in 2015, 2017, 2019 and 2021. Animals that traveled with them had to be evaluated, revaccinated and monitored for up to 6 months, he said.
The CDC also investigated whether any people were exposed to rabies as a result of the dog imports. Each case cost the federal government between $215,000 and $509,000 to investigate, according to Feldstein.
Puppy Rescue Mission of Fort Kent has rescued 4,000 dogs since it began operating in 2010. Forty of them were placed with Maine families and the rest were placed with homes throughout the country.
The non-profit organization requires that all dogs are vaccinated for rabies at least 30 days prior to traveling to the United States. 
"We've never had a rabid dog in 4,000 animals," mission founder Anna Chiasson said.
The CDC has seen a rise in irregularities with rabies vaccination certificates, and in 2020 intervened in more than 450 dog importations with such certificates, Feldstein said.
In such cases, dogs are stored in airport warehouses while they await flights to return to their home countries. The import ban will prevent these dogs from being housed in unsafe conditions by airlines while awaiting their return flights, Feldstein said. 
One dog who was fortunate to find her way to the United States with the help of Puppy Rescue Mission is Indiana Bones Hartt. 
"She was born in a village in the African desert, so we used the 'Indiana Jones' reference to name her," Indy's owner Melanie Hartt said. "She's what they call an African Village Dog, which is a mutt mixed with various breeds found over there."
Indy wandered as a pup along with her sisters into a government contractor's living quarters at a location in Africa not made known to Hartt for national security reasons. The contractor created a temporary safe place for the puppies to protect them from scorpions and other wild dogs.
"Dogs are often treated so horribly in that area of the world," Hartt said.  
Chiasson founded Puppy Rescue Mission in 2010, when her husband, at the time her fiance, Chris Chiasson was deployed to Afghanistan — one of the countries that will be banned — and befriended a small pup named Bear that he did not want to leave behind. 
Bear's mother was one of three dogs that saved 40 U.S. soldiers' lives when the dogs began barking and alerted the soldiers to a suicide bomber attempting to enter their combat outpost.
Deployed soldiers and dogs often form bonds and Puppy Rescue Mission helps soldiers bring these dogs home with them. 
"We never turn a soldier away," Chiasson said. 
"There are also times the soldier does not want to leave the dog behind but can't adopt given their living situation. At that time, we search to find the best possible home for the dog," Chiasson added.
Such was the case with Indiana Bones and her siblings. 
Indy has adapted well to her life in northern Maine, having moved from the desert to the snow. Her favorite toys are a flat racoon and flat bunny, according to Hartt, and she prefers her eggs cooked sunny side up. 
Other dogs may not experience such a happy outcome, but Puppy Rescue Mission is doing everything possible to bring many dogs to the United States before the deadline.
"We are working hard to get all of our eligible properly vetted dogs here before the ban goes into effect," Chiasson said. "Sadly, we do have some that are not ready to fly and we have to leave behind. We are looking into other options but right now we are up against a wall."