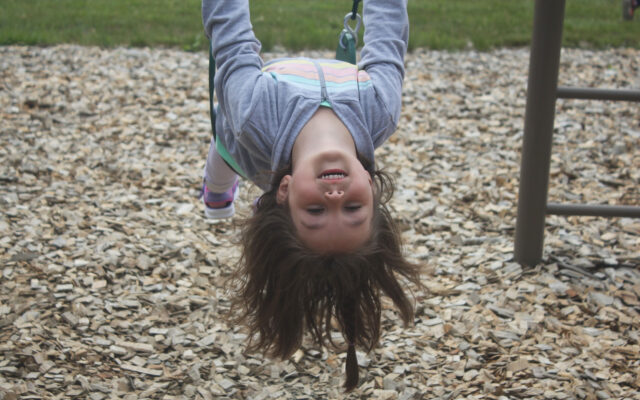 Pondfest3
WALLAGRASS, Maine -- July 3, 2021 -- Willow Saucier, 4, enjoys a summer swing ride at the 2021 Pondfest celebration. (Jessica Potila | St. John Valley Times)
Pondfest celebration raises more than $6,000 toward veterans' monument
WALLAGRASS, Maine — The return of the Pondfest celebration proved successful both in terms of fundraising and bringing people together at the Wallagrass Community Center on July 3.
"My goodness, we never had so many people — it was our biggest crowd ever," organizer Elaine Desjardins said. "We had a lot of young couples with kids and the weather was just right. We were very, very pleased." 
Kelley and Anthony Saucier along with children, Jaxson, 10, and Willow, 4, were among the young families who attended Pondfest on Saturday. 
"It's nice," Kelley Saucier said. "It's close to home and it's kid-friendly." 
The Soldier Pond Wallagrass Revitalization committee hosts the family friendly celebration each year to raise funds for local community improvement efforts.
Pondfest 2021 raised more than $6,000, which will help support the construction of a local veteran's monument. 
Pondfest took place annually for six years each summer through 2019. The popular Pondfest celebration returned July 3 after a hiatus last summer due to the COVID-19 pandemic.
Desjardins said she attributes the steady stream of Pondfest 2021 attendees in part to people wanting to socialize again following the pandemic. 
"We were kind of the first event where people could just get out and see each other again," Desjardins said. "We had people who were up here camping — from downstate and out of state — a lot of them just wanted to get out and be with people again." 
The event included a grilled hot dog and hamburger barbecue, children's games, performances by local musicians throughout the day, a frog race using real frogs, a plastic duck race, parade and fireworks.
The event also honored Laura Saucier, 98, the small town's oldest living resident. 
Fellow Wallagrass resident Thomas Pinette escorted Saucier to the event in style in his shiny blue 1931 Model A Ford.
The revitalization committee is already scheduled to meet again next week to discuss plans for Pondfest 2022.