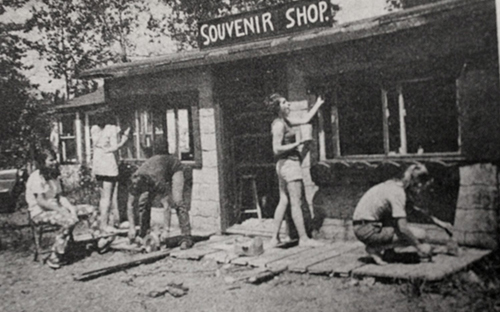 SJVT From Files 24.21 (1)
Souvenir Shop About Ready To Open -- The new souvenir shop in Sinclair is in its final stages of completion after painters slicked it up last week. Shown from left in the photo are Rena Mae Albert, Mrs. Roger Albert, Tommy Ouellette, Mrs. Robert Sinclair and Patty Albert. (File photo |1971)
From our Files – Week of June 14, 2021
50 Years Ago — June 24, 1971
    Bon voyage to Annick Moricet — About 45 people gathered at Lincoln School in Grand Isle two weeks ago Tuesday to give Miss Annick Moricet, social worker for SAD 24's Follow Through program for two years, a going-away party before she returns to her homeland in France.
Miss Moricet was presented with a "Bon Voyage" cake, an American flag charm and a good-luck card signed by all those present.
   Service baseball  gets one inning — The Service Club Baseball League opened play Monday and it all lasted for about one inning. "We were rained out," said Claude Sirois, league president, with disgust. "But on the positive side we have a full summer of fun coming for the boys." The Rotary was to meet the Jaycees and Mike Bouchard, star pitcher, only got in a few of his special fast balls and curves before the rain came.
    25 Years Ago — June 19, 1996
Cyr Valley's newest Eagle Scout — Timothy Cyr of Boy Scout Troop 190 in Madawaska is the St. John Valley's newest Eagle Scout.Cyr was welcomed to that status during a special Court of Honor in May 1996. Cy's Eagle Scout project found him cleaning and clearing up the area adjacent to the St. John River at the Acadian cross site in St. David. He chose to remove approximately 15 tractor, truck and car tires from a small brook leading down to the river. This area was overgrown with brush, making it unsafe for foot traffic. This project benefited the community and the Madawaska Historical Society.
10 Years Ago — June 22, 2011
Madawaska freshmen plant 600 trees — Students form the Madawaska High School freshman class recently planted more than 600 seedlings donated by Irving Woodlands on land around the Four Seasons Lodge. The community service project was part of their environmental unit and is the third year that trees have been planted on the land around the lodge. The trees were planted around the new sprint loop to replace trees that were recently harvested.
Third-graders make delivery to Forest Hill — Fort Kent Elementary School students of Tamar Philbrook's class recently gathered at Corriveau's Hilltop Blossoms to turn empty cedar barrels into distinct and eye-catching container flower pots. As part of an annual year-end ritual, Philbrook, Corriveau and the students delivered the flowers to Northern Maine Medical Center and Forest Hill, and students played music and danced for the Forest Hill residents.