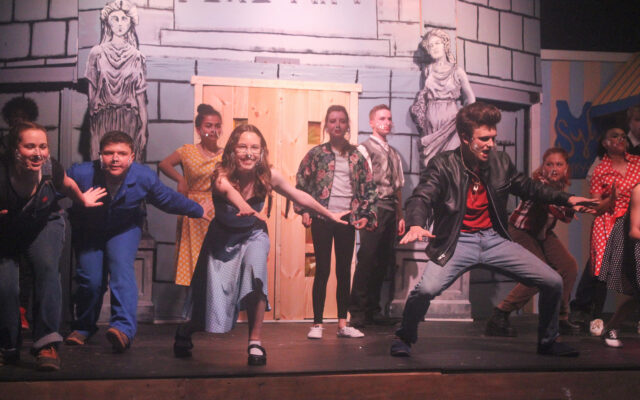 shook1 (1)
FORT KENT, Maine -- June 4, 2021 -- The Fort Kent Community High School cast of 'All Shook Up' shakes things up on the stage during a dinner theater performance of the musical. (Jessica Potila | St. John Valley Times)
Elvis-inspired musical makes Fort Kent school history with sellout performances
FORT KENT, Maine — Maybe it was a desire for post-pandemic entertainment or maybe the cast and crew just rocked the shows, but audiences turned out in record numbers to the Fort Kent Community High School musical "All Shook Up."
The dinner theater production sold out all 75 seats at three shows held the evenings of June 3-5, at the high-school cafetera. 
"All Shook Up," which premiered on Broadway in 2005, is based on a book written by Joe DiPietro inspired in part by the music of Elvis Presley. 
"I think it was a play that the audience related to," director Doug Clapp said. "A lot of older adults remember Elvis and loved his music." 
The musical was selected with audiences in mind. 
"I think people have been looking for entertainment during the pandemic and they missed the fact that they could get out and see a show," Clapp said. "With the COVID pandemic and everything people have gone through we wanted to keep it upbeat."
Sophomore Tia Saucier, who played a dual role as both a lovelorn young lady named Natalie and biker named Ed in the show, said she was thrilled to perform.
"I have always been a fan of old music, Elvis of course included, which comes from my parents and grandparents introducing it to me at such a young age," Saucier said. "I think this play is extra special because despite all the setbacks due to COVID and the various restrictions, we were able to bring multiple generations in our community together to experience a happy and uplifting play." 
Saucier, who plans to become a pediatrician one day, said participating in theater has many benefits for students.
"High school theater gives kids the opportunity to be exposed to so many things that are so useful in life- memorization, public-speaking skills, and carpentry; just to name a few," Saucier said. "And by the end of a production, you form so many amazing relationships with fellow cast mates and crew members as well."
Fort Kent Elementary School music educator Samantha Rossignol worked with students to prepare them vocally to take on the songs. 
"She knows her stuff," Clapp said of Rossignol. 
"We had some veteran singers as well as some we'd never heard sing," Rossignol said. "I worked a lot on getting them to match the correct pitch and encouraged continued practice on their own time."
"The students amazed me with how well they adapted to anything," Rossignol added. "They performed like professionals." 
Eighth-grader Sadie Cairns, who performed the lead role in the Doug Clapp directed production of  "Annie" when she was 10 years-old, demonstrated a voice fit for Broadway during her role.
"She just sings and the voice goes there- she can bend around a melody in a beautiful way and deliver it in her acting and her emoting while she sings is very strong," Clapp said of Cairns. 
"I've pretty much always sung but I started taking it professionally and participated in singing and piano lessons when I was younger," Cairns said. "I used to sing in church and catered at weddings including Samantha Rossignol's last summer. When I graduate from high school I definitely want to go to a theater/performing arts school somewhere."
Sophomore Sadie Pelletier choreographed All Shook Up, which featured some of Elvis' most famous songs, including "Jailhouse Rock," "Don't Be Cruel," "Burning Love" and "Can't Help Falling in Love." 
"I watched her when she was working with the students and she had their respect and I think the students really enjoyed the dancing; they were having fun," Clapp said.  
Clapp said audience member feedback to the play was all positive.
"A lot of them said it was the best show ever – of course we hear that somewhat repeatedly and always want them to think the play they just saw was the best play ever," Clapp said. "Hopefully the productions do gain from the history of it all. You learn from your mistakes and you learn from what works."