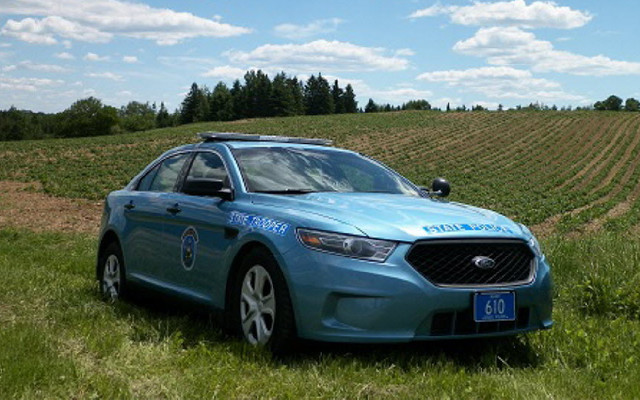 MSP_F
Maine State Police - Troop F - Aroostook County.
Maine State Police Troop F Report, May 24-30, 2021
Editor's Note: An arrest or summons does not constitute a finding of guilt. An individual charged with a crime is presumed innocent unless and until proven guilty at criminal proceedings.
HOULTON, Maine — The Maine State Police Troop F barracks in Houlton responded to a number of calls for service during the period of May 24-30, including the following.
Monday, May 24
HOULTON — Sgt. Fuller arrested an Oakfield man on two outstanding warrants. The man learned of the warrants for his arrest and turned himself in at the Houlton barracks. The man was released on bail and scheduled to appear in Houlton District Court.
Tuesday, May 25
ST. FRANCIS — Tr. Desrosier was investigating a theft of services at a residence in St. Francis. When Tr. Desrosier arrived on scene he observed a male hiding on the porch that he knew had active warrants for his arrest. Tr. Desrosier placed the man under arrest. Tr. Desrosier then located a female in a vehicle parked in the driveway that he knew had active warrants for her arrest and placed her under arrest. As Tr. Desrosier was on scene, he observed the male property owner drive by. Tr. Desrosier knew that the property owner had a suspended driver's license. The man later returned with a licensed driver. Tr. Desrosier issued summonses for theft of services, violating condition of release and operating after suspension. A game warden assisted with transporting one of the subjects to the Fort Kent Police Department to meet with a bail commissioner.
ISLAND FALLS — Tr. Saucier was assigned a criminal mischief complaint after receiving information through the "report a crime" website. The investigation is ongoing. 
Wednesday, May 26
CROSS LAKE TOWNSHIP — Tr. Desrosier is investigating a criminal mischief complaint that occurred at a camp in Cross Lake Township. The suspect had entered a camp and helped themselves to beer and appeared to have slept in a bed. Nothing appeared to have been taken other than the beer. The investigation is ongoing.
MARS HILL — While Tr. Kilcollins was conducting rural patrol in Mars Hill he observed a vehicle acting suspicious. Tr .Kilcollins ran the registration on the vehicle that indicated that the registered owner's license was currently under suspension for an operating under the influence. Tr. Kilcollins located the vehicle later and made a traffic stop due to a traffic violation. The registered owner was operating the vehicle. Tr. Kilcollins issued the registered owner a summons for operating after suspension. A licensed driver was called to remove the vehicle.
WESTMANLAND — Tr. Desrosier is investigating a report of a camp burglary in the town of Westmanland. The suspect forced open the door and ransacked the camp. Nothing appears to have been stolen at this time. The investigation is ongoing.
MARS HILL — Sgt. Haines assisted Houlton Police Department in locating a suspect who took his mother's vehicle and was possibly headed to Houlton. Sgt. Haines was able to take the 35-year-old Houlton man into custody without incident. He was transported back to Houlton to face charges in their investigation.
PERHAM — Tr. Curtin responded to a residence in Perham about a burglary. A man called to report his mother had moved to an assisted living facility and he was watching her home. The man noticed someone had broken in at some point and taken items. The investigation is ongoing.
Thursday, May 27
MAPLETON — Tr. Rider responded to a personal injury crash in Mapleton. The investigation revealed that the operator left the roadway hitting a mailbox/planter. The man sustained and injury to his left hand from the windshield glass. The man was transported to A.R. Gould Memorial Hospital in Presque Isle. The investigation is ongoing as to the cause of the crash. 
MAPLETON — At approximately 1615 hours the Houlton Regional Communications Center took a call of a crash on Route 163 in Mapleton. Initial reports were that an intoxicated female had crashed into another vehicle and that driver was attempting to flee the scene of the crash. Cpl. Chuck Michaud responded to the scene and found everyone involved to still be at the crash scene. His investigation revealed that 47-year old Katrina Majkszak had been traveling west on Route 163 in her 2006 Ford Focus when she crashed into the back end of a 2006 Toyota 4-Runner that had been towing a U-Haul trailer. 57-year old Jean Hodgkins of Worcester, Massachusetts, had been preparing to turn into a driveway with her SUV and trailer that she had had been towing when the crash occurred. Majkszak was transported to A.R. Gould by Presque Isle Fire and Ambulance for what appeared to be minor injuries. Hodgkins and her passenger were uninjured. Both vehicles sustained extensive damage and the Ford had to be towed from the scene. Presque Isle Police had taken calls on Majkszak's operation from concerned motorists and had been searching for her prior to the crash. When the crash occurred Sgt. Tyler Cote of the Presque Isle Police Department was closest to the crash and responded to ensure that the operator did not flee the scene. Majkszak was charged with operating under the influence, driving to endanger and violating conditions of release.
Friday, May 28
T7R5 WELS — Tr. Castonguay responded to a tractor trailer vs. moose crash on Rt. 11 in T7 R5 WELS. There were no injuries in the crash. 
Saturday, May 29
FRENCHVILLE — Tr. Curtin stopped a vehicle for speeding while monitoring traffic in Frenchville. As a result, Tr. Curtin arrested the 59-year-old female operator on a warrant for theft. She was transported to Madawaska PD where she was able to make bail.
Sunday, May 30
LITTLETON — Tr. Mahon was monitoring traffic in Littleton when he ran a registration plate that had passed him. The registration showed inactive from 2019. Tr. Mahon stopped the vehicle and learned the operator had a revoked driver's license with several priors. Tr. Mahon charged the 32-year-old Hodgdon man with Class C operating after revocation. The plates were removed from the vehicle and it was towed from the scene.