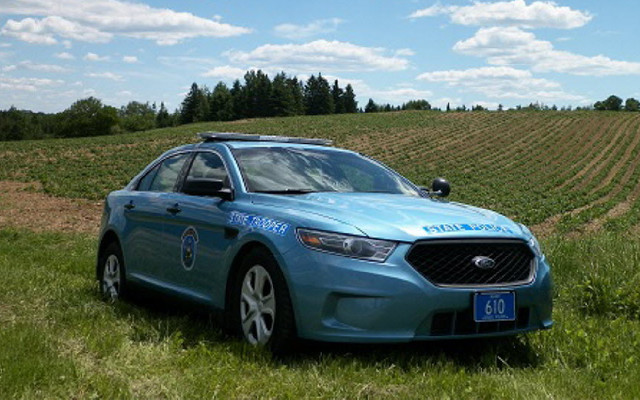 MSP_F
Maine State Police - Troop F - Aroostook County.
Maine State Police Troop F Report, May 10-16, 2021
Editor's Note: An arrest or summons does not constitute a finding of guilt. An individual charged with a crime is presumed innocent unless and until proven guilty at criminal proceedings.
HOULTON, Maine — The Maine State Police Troop F barracks in Houlton responded to a number of calls for service during the period of May 10-16, including the following.
Sunday, May 9
VAN BUREN — Sgt. Haines stopped a vehicle in Van Buren for an exhaust violation. As a result of the stop, Sgt. Haines charged a 33-year old Madawaska man with operating after suspension as well as several traffic infractions. 
VAN BUREN — Sgt. Haines responded to a residence in Van Buren reference to a report of an assault. The male victim reported being assaulted by another local male who was no longer at the residence. The victim became confrontational with Sgt. Haines and EMS. The victim refused to cooperate with the investigation and ordered everyone off his property.
Tuesday, May 11
STOCKHOLM — Tr. Martin charged a Stockholm man with violating his conditions of release after learning that the man had travelled out of the area to attend a party. One of the man's conditions he had been released on was that he does not stay overnight anywhere besides his home unless he was attending medical or religious services. The man was summoned to Caribou Court for the violation.
SMYRNA — Tr. Barnard responded to a Smyrna business when the owner realized that her facility had been burglarized. Several items were missing from the property and the investigation is currently ongoing.
Thursday, May 13
MARS HILL — Tr. Kilcollins received information relating to a man having a no-bail warrant in Mars Hill. He and Tr. Rider went to the residence and located the man. After explaining the warrant, the man placed his hands behind him and cooperated with being arrested. He was transported to the Aroostook County Jail in Houlton.
Friday, May 14
HOULTON — Sgt. Haines served as an instructor for firearms requalification for Troop F, CVEU and MCU on May 12 through May 14.
Saturday, May 15
FORT FAIRFIELD — Sgt. Clark and Tr. Kilcollins responded to a residence in Fort Fairfield. It was reported that a family was outside cleaning their yard when their neighbor came over and emptied a can of pepper spray at them, unprovoked. After an investigation, it was learned that the man using the pepper spray said that one of the men in the house came after him while he was walking his dog. He then went to the house, where the family was taunting him, after a brief scuffle between the man and the other family, he sprayed them with pepper spray. Everyone involved was issued disorderly conduct warnings and told to stay off each other's property. No one wanted to pursue criminal charges against the other.
Sunday, May 16
LITTLETON — Cpl. Quint stopped to check a motorist that was stopped on the side of US Highway 1, Littleton. The man said he was on his way home from work when his truck quit. The man was arranging a wrecker and during the investigation it was discovered he had a suspended driver's license. Cpl. Quint issued the man a criminal summons for operating after suspension, helped him arrange a wrecker, and gave him a ride to his residence in Blaine.