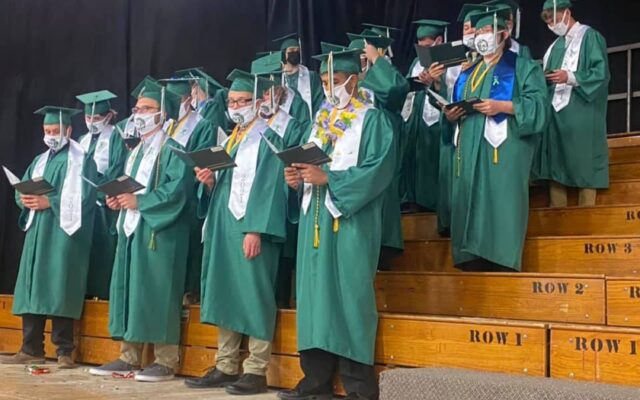 graduation4
Fort Kent Community High School celebrated 51 graduates during a ceremony Thursday to honor the Class of 2021. (Courtesy of John Kaleta)
Fort Kent Community High School graduates 51 students
FORT KENT, Maine — Life changed for high school students everywhere when midway through last year COVID-19 was introduced to the world. Despite lost opportunities and extra challenges, the Fort Kent Community High School Class of 2021 persevered and 51 of those students received their high school diplomas on Thursday.
"You have endured remote learning, hybrid learning, more remote learning and back to in-person learning with COVID 19 restrictions," Principal John Kaleta told students at the graduation ceremony.
"As this pandemic has robbed you of many experiences in the past year and a half, it has embedded in all of you numerous gifts that will last a lifetime and allow you to not just succeed but flourish as individuals," he said.
Honor speaker Mya Eno discussed the importance of teamwork under any circumstances, something which she said became especially clear through the pandemic. 
"Words like 'quarantine,' 'Zoom meeting' and 'face mask' all took on a new meaning and learning from home was the obstacle we never thought we'd have to face," Eno said. "We as a full community worked together to make our education possible." 
Guidance counselor Catherine Sevigny announced that 63 percent of the graduates would be furthering their education at colleges or other educations of higher learning.
Between them, the students have secured more than half a million dollars in scholarship money. 
The audience cheered when Sevigny recognized students who has served as essential workers and Anthony Pelletier, who will be joining the United States military.
Honor speaker Aryan Patel brought some levity to the ceremony when he spoke of the many virtues characteristic of educators at the high school.
"Our teachers all have wisdom, spirit, integrity, honesty, perseverance, kindness, compassion and passion," Patel said. "The best time to see all six in action is when the Wi-Fi goes out." 
Ellie Ouellette was also an honor speaker at the ceremony.
"Even though we are small in number, we are huge in spirit," Ouellette said of her class. 
Kaleta, a member of the Fort Kent Community High School Class of 1981, offered advice to the students based on his years of experience. 
"At your 40th reunion will you be satisfied with your life," asked Kaleta. "By being honest, pushing your limits, working hard, doing what you love and being empathetic, you will change the world and make your life an incredible success. From this point forward, graduates, it is all up to you. You are in the driver's seat and the world is your road."