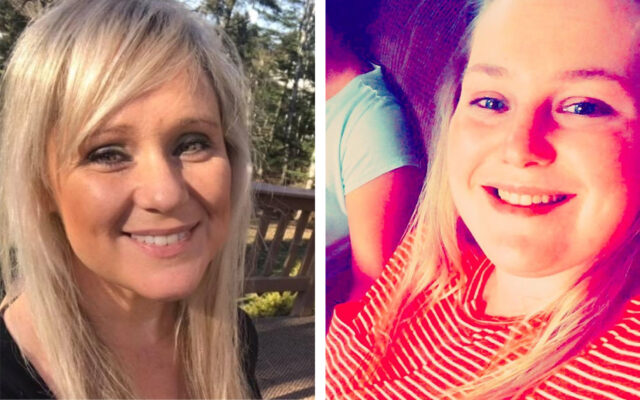 ChantalAndKelsey
Chantal Hayes, left, and Kelsey Whitely were involved in a car crash on May 27. Whitely died during the crash and Hayes remains in a Bangor hospital in a medically induced coma. (Courtesy of Jonathan Nathaniel Hayes and Ricardo Whitely)
Women involved in fatal car crash shared love of family, community
FORT KENT, Maine — Five days after the death of her daughter, Traci Yeaton struggled to write her obituary. 
"I can't get past the first two words, 'Kelsey Jane … '," Yeaton said.
Kelsey Jane Whitely, 28, died unexpectedly the morning of Thursday, May 27, during a head-on collision that also critically injured the other driver, Chantal Hayes, 44, also from Fort Kent. 
Whitely, a registered nurse, was returning to her home in Fort Kent from a midnight shift at Northern Light A.R. Gould Hospital in Presque isle when her vehicle crossed the centerline of Route 161 in Madawaska Lake. 
"It's not the phone call I ever thought I'd get, not Kelsey," Yeaton said. 
Kelsey Whitely had much to live for — a loving husband, Ricardo Whitely, and the couple's two young children, daughter Jacelynn, a pre-kindergarten student, and son Javaughn, born just three months ago. 
The young wife and mother was also closing in on a master's degree in nursing, and in a matter of months would have fulfilled her dream of becoming a nurse practitioner. 
Kelsey Whitely had just recently returned to work following the birth of her son, and was passionate about nursing.
"She wanted to give back and to help people," Ricardo Whitely said. 
Hayes, a single mother of three children — daughter Karis, 18, and sons Joah, 8, and Malachi, 6 — was traveling from her home in Fort Kent to her job as director at Ultra Body Contour Med Spa in Presque Isle when the crash occurred. She remains hospitalized at Northern Light Eastern Maine Medical Center in Bangor.
"It's a tragedy all the way around," Jonathan Nathaniel Hayes, Chantal Hayes' brother, said. "You have two hardworking mothers working to provide for their families traveling to and from work. When we pray for Chantal we also pray for the Whitely family. There's a husband and children who don't have their mother at all and our heart goes out to them."
Originally from Wilton, Kelsey Whitely moved north to attend the University of Maine at Fort Kent, where she earned her bachelor's degree in nursing and found the love of her life in fellow student Ricardo Whitely, a soccer player from Jamaica.  
The couple met at a college dance where Ricardo Whitely was enamored by his future wife's smile and personality.
"It just clicked," Ricardo Whitely said. "You know when you meet someone if it feels right. She was a great human being, you know."
Kelsey heard a calling to become a nurse as a child, while helping to care for her former stepfather during his battle with cancer. 
"Some people are sweet. Kelsey was really sweet, so kind, just very kind," Yeaton said. 
"She had a lot of drive and would do anything for her family."
Ricardo Whitely, a special education tech and soccer and tennis coach for SAD 27, said his wife was "the rock of the family."
Kelsey Whitely respected her husband's love of sports, attending soccer games at UMFK and games he coached for high school students. 
She also appreciated her husband's cultural heritage and mastered the art of cooking his favorite meal — rice and peas. 
At the time of Kelsey Whitely's death, the couple was planning a return trip to Jamaica to spend time with Ricardo's family. 
She was a devoted mother to her children and would read to them nightly and spend time doing arts and crafts with Jacelynn. 
"She leaves me with two angels," Ricardo Whitely said. "I will take it day by day to do the best I can for them." 
Yeaton said her grandchildren are what has kept her going since losing her daughter. 
"It's my survival," she said. "When Javaughn wakes up with a little smile on his face I can actually smile — the same with Jacelynn." 
"If she even had a chance in that car she would have done anything to get back to them. They were her world," Yeaton added. "They will both know her; I guarantee they will know who their mother was. Kelsey will not be forgotten." 
Before the accident, Chantal Hayes served as a worship leader and singer for her church, AGAPE Christian Fellowship in Fort Kent. 
Jonathan Nathaniel Hayes said the most important things in his sister's life are God and family. 
"Her children are her world and serving God and being a light and ministering to others, her hope and her joy that she has in Christ, sharing that with other people is what makes her tick ," he said. 
The brother and sister share a special bond.
"Chantal and I are what they call 'Irish Twins'," Jonathan Nathaniel Hayes said. "We were born 11 months apart in the same calendar year. As preacher's kids we traveled and moved a lot, so she and I have always been close. She is me in a skirt or I am her in a kilt. Through marriages and divorces, and family tragedies, like when her husband [Karis' stepfather] drowned in Long Lake years ago, we've always been each other's anchor."
Jonathan Nathaniel Hayes immediately rushed to be near his sister, who was transported to the Bangor hospital by a LifeFlight helicopter.
"She had multiple broken ribs, broken leg, broken foot, and worst of all a shattered pelvic bone," he said. "She had contusions to both her heart and lungs. Her lungs were seeping air into her chest cavity and one of her lungs had collapsed."
Jonathan Nathaniel Hayes and his wife Tammie Hayes gathered Chantal's daughter Karis, who will graduate from Fort Kent Community High School next week, and immediately headed to Bangor. 
The family has had to take turns being by Chantal's side, due to COVID-19 restrictions that limit the number of hospital visitors. 
Chantal Hayes, who had taught aerobics and kickboxing, has remained in an induced coma and undergone multiple surgeries in the week since the accident, including trauma surgery to stop internal bleeding and orthopedic surgeries to her foot, hip and pelvis, with future surgeries expected.
"The doctors said their goal, if everything goes well, Chantal will be able to walk on level surfaces without pain," Jonathan Nathaniel Hayes said.  "As a family of faith, the doctors' goal is our baseline for what we're believing her recovery is going to be."
"Right now her body is really weak but her soul and her spirit are making up for that weakness with incredible strength that's seeing her through this right now," he added.
GoFundMe pages have been set up for the families of Kelsey Whitely and Chantal Hayes. There is also a "Family Means Everything — $10 Sponsor Spot" fundraiser on Facebook to help raise money for the Hayes family to visit Chantal at the Bangor hospital. 
The public is invited to attend services for Kelsey Whitely at 11 a.m. on June 12, at St. John Vianney Parish. A gathering to reminisce about Whitely will follow at Riverside Park.
A previous version of this story incorrectly stated that Karis Hayes' father drowned. Her stepfather drowned.