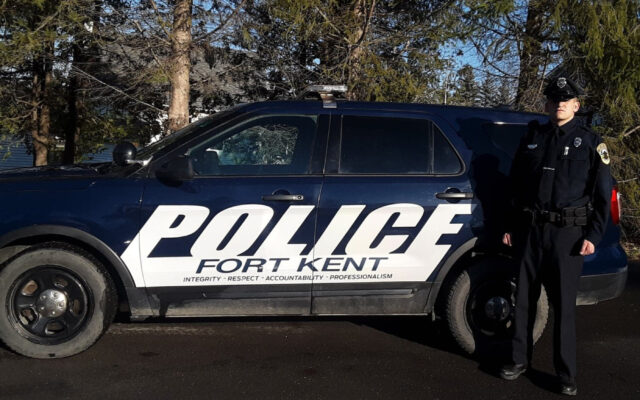 Fort Kent police officer helps save woman's life
FORT KENT, Maine — A Fort Kent police officer helped to save the life of a woman who suffered from a medical problem. 
Earlier this month, Officer Jack Maloney was called to a Fort Kent residence where it was reported that a 75-year-old woman had died. 
The call came in as an "unattended death," according to Fort Kent Police Chief Tom Pelletier. 
"Her life signs were gone," Chief Pelletier said.
Maloney, 22, arrived at the residence along with first responders from Ambulance Service Inc. 
The young officer helped load the woman into the ambulance and aided ASI first responders by performing CPR chest compressions while the woman was on the gurney in the back of the ambulance. 
The woman was revived and transported to Northern Maine Medical Center. 
"My training kind of took over and I did what I had to do," Maloney said.  
Maloney said he experienced "a lot of adrenaline," while performing CPR on the woman and felt happy he was able to help save her.  
Maloney, of Concord, Massachusetts, joined the department last fall as a reserve officer. 
The new police officer attends University of Maine at Fort Kent where he will graduate in May with a bachelor's degree in public safety administration. 
Maloney said he decided on a career in law enforcement so that he could help others. 
Pelletier said police officers do more than enforce laws and are also involved in keeping the community safe in other ways. 
"A lot of times we're the first to respond to critical incidents and emergency situations, anything from trauma from a car accident to drug overdose victims where we administer NARCAN — a lot of times it's just because we are in the community so we are the first ones there," Pelletier said. 
Pelletier said his police department is not alone in providing critical aid to members of the community. 
He pointed to a June 30, 2020, logging accident where a Madawaska man's hand was severed by a wood splitter. 
Responders were not sure right away how to remove the hand from the wood splitter machine without causing further damage. 
After studying the situation, Sgt. Garrett Albert of the Madawaska Police Department used a Halligan bar, or a heavy-duty crowbar, to pry a log free of the wood splitter and release the hand. 
The man's hand was successfully reattached at a Boston hospital. 
Pelletier said such successful interventions by police not only aid community members  but are also positive experiences for the officers who render the assistance. 
"I think it's great, especially for a young officer to have a successful medical intervention and help save someone's life; it makes them feel good about doing the right thing."