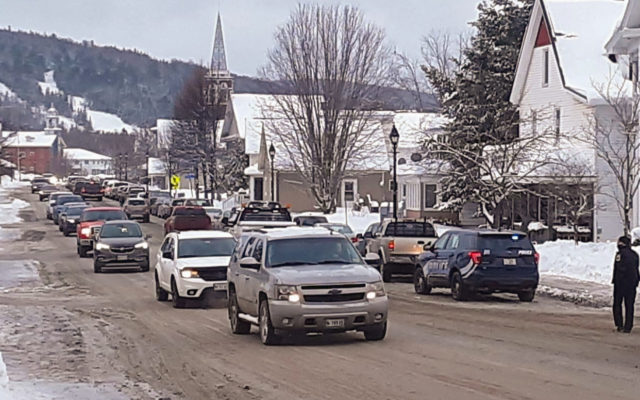 foodboxes2
Officer Cole Pelletier of the Fort Kent Police Department directs traffic as the downtown area experiences a surge of vehicles during a free food giveaway near Riverside Park. (Jessica Potila | St. John Valley Times)
Food distribution drive planned for Madawaska will likely bring long lines
MADAWASKA, Maine — Catholic Charities of Maine will host a food distribution drive at the Multi Purpose Center in Madawaska on Wednesday morning, March 3. The organization, which has been hosting distribution drives like this across the county for months, will bring 1,000 boxes of grocery staples, each weighing 30 pounds.
The drive is a part of the U.S. Department of Agriculture's Farmers to Families Food Box program — an initiative it announced in April to respond to increased food insecurity during the Covid-19 pandemic.
The boxes Catholic Charities will pass out on Wednesday are packed with fresh groceries: oranges, apples, potatoes, cottage cheese, sour cream, mozzarella, a pound of butter, a gallon of milk, hot dogs, and meatballs. There are no income limits, zip code or other requirements to qualify for a box — the drives are run on a first-come first-served basis.
Distribution technically begins at 9 a.m., though Catholic Charities has been starting the drives earlier and earlier. The drive organizer, Catholic Charities Director of Hunger and Relief Services Dixie Shaw, said they will start distributing food as soon as the truck and volunteers arrive.
"We don't just stand there and look at our watches and wait until we open," she said. 
This is in part due to the massive crowds that have flocked to the distribution drives across The County over the past year. In Houlton, Caribou, Fort Kent and Presque Isle, cars have backed up through town as people line up to receive assistance. 
Shaw said that everywhere she's gone, there have been lines hundreds of cars long, and volunteers have had to call police to help contain the rush.