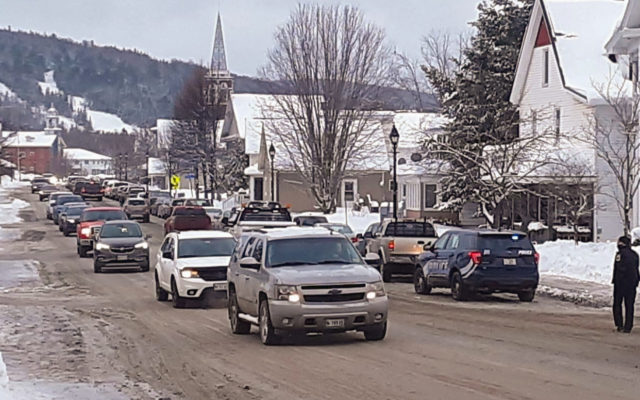 foodboxes2
Officer Cole Pelletier of the Fort Kent Police Department directs traffic as the downtown area experiences a surge of vehicles during a free food giveaway near Riverside Park. (Jessica Potila | St. John Valley Times)
Main Street traffic jam reflects County food insecurity
FORT KENT, Maine — Rows of vehicles lined River Street in Fort Kent Thursday morning, Feb. 4, even as natural light just began creeping out of the northern Maine sky.
Catholic Charities of Maine was scheduled to help distribute free boxes of staple food items near the Lions Pavilion on River Street at 9 a.m. that day.
So many showed up to the Free Food Truck to Trunk event to receive the boxes containing such basic food items as apples, potatoes, cheese and milk that a traffic jam ensued in downtown Fort Kent more than an hour before the food was to be distributed. 
Fort Kent police arrived to direct traffic that backed up for half a mile extending along Main Street and past one of the town's only two traffic lights into Market Street.
The enormous turnout reflects the level of food insecurity in Aroostook County, according to Dixie Shaw, program director for hunger and relief services for Catholic Charities of Maine. 
Native Maine of Westbrook received a government grant to provide the food and Catholic Charities of Maine helped to distribute it.
The partnership provided 1,000 boxes of free food to people at the Fort Kent site on Thursday. 
The food was also distributed in Caribou, Presque Isle and Houlton that week.  
Shaw said the turnout was equally as enthusiastic and challenging at the other northern Maine food distribution sites. 
"These food distributions in parking lots from a trailer truck to a car trunk are labor-intensive, require a tremendous amount of very capable volunteers, require a huge parking lot, and require police intervention most of the time to help with traffic congestion so we have got our work cut out for us but we are up to the challenge," Shaw said. "But we believe we have done a good job and have a great system and are getting food out to some of our most vulnerable, which is many more people now than ever before."
Shaw said she anticipates free food boxes will be distributed in the St. John Valley in March.