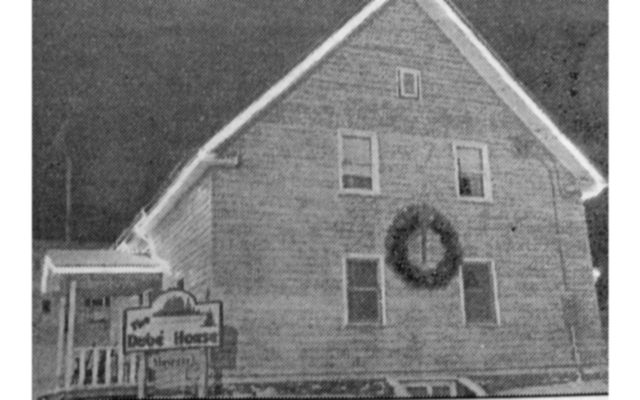 From our files 3-21
Decorated For Biathlon -- For the first time since the 18th century, the Dube House was decorated with wreaths of Christmas pine and rope lights to enhance the outline of the old homestead. The Bangor & Aroostook Railroad was also decorated with wreaths of pine and rope lights. Butch (Don) Dubois and Mike Charette put up the lights at the request of and with donations from Greta Laferriere Martin, producer/host of "America, the View from the Top" and ice president of the Fort Kent Historical Society. As many others in Fort Kent will be doing, the lights will be lit during the World Cup and Can-Am Crown Sled Dog Race festivities. (File photo|2011)
From our Files – Week of January 18, 2021
50 Years Ago — Jan. 21, 1971
    Class field trip — Mrs. Marie Novack's junior vocational class went on a consumer education field trip to Robert's Jewelry Store in Madawaska, where they learned about table appointments from Robert Corey.
The students were shown various designs in stainless steel flatware, Fenton milk glass pieces, Czechoslovakian crystal, lead crystal, Viking glassware and china dinnerware. Mrs. Novack had taught them that "a well-set table need not necessarily be an expensively appointed one."
25 Years Ago — Jan. 17, 1996
Ames to close — The news struck like a sucker punch to the kidneys early Friday morning- 48 jobs to be lost in Madawaska, with an additional 60 jobs rumored to be lost in Fort Kent and Madawaska within the next few months. The Ames Department stores in Madawaska, Caribou, Presque Isle and Houlton are closing in early March 1996, according to Joseph Ettore, Ames president and chief executive officer. A total of 17 stores are being closed in Maine, New York and Pennsylvania, said Ettore in a prepared statement Friday. The news came as a shock to Madawaska Ames employees. Manager Sandra San Antonio said there was no warning of the pending closure. "The rest of the country is fearing a recession, but it sometimes feels we're already in a depression," Madawaska Town Manager Arthur Faucher said.
10 Years Ago — Jan. 19, 2011
Gendreau gets career points — Fans packed the gym at Madawaska High School, not only to cheer on the entire Owls team, but to watch anxiously as senior Deejay Gendreau worked toward the 29 points he had left to score to reach his 1,000th career point. The Owls hosted Greater Houlton Christian Academy in the second game of the night on Jan. 14, 2011. The Owls went into the fourth quarter with a 58-39 lead, with Gendreau only six points away from his 1,000 as the crowd kept track of the count. Minutes into the fourth, he got it off a three-point shot, and the crowd erupted in cheers and applause. The game was stopped temporarily as Gendreau was given the game ball, which he presented to his parents, Danny and Deborah Gendreau.