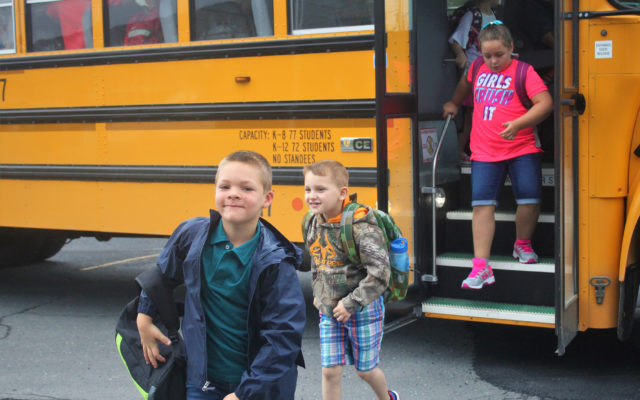 school2
Students leave a bus at Fort Kent Elementary School in 2019. (Jessica Potila)
Valley Unified schools prepare for reintegration following holiday break
FORT KENT, Maine — Students in Valley Unified schools will transition to in-class learning during the coming months as they follow a reintegration plan devised by administrators.
Valley Unified executive director Benjamin Sirois shared the plan in a Dec. 29 letter posted on the Valley Unified Superintendent Blog. 
Students attending schools in all three Valley Unified School Administrative Units — SAD 27, SAD 33 and Madawaska School Department — will continue remote learning when the holiday break ends on Monday, Jan. 4, and through Thursday, Jan. 14. 
Students in SAD 27 moved to a remote learning model on Tuesday, Dec. 8, due to an outbreak of COVID-19 at a local business.
SAD 33 students moved to the remote learning model Thursday, Dec. 17, also in response to an outbreak of COVID-19 at business in that area.
Madawaska School Department students moved to remote learning on Friday, Dec. 18, after two people at Madawaska Elementary School tested positive for COVID-19. 
Sirois said Valley Unified administrators and school nurses have worked closely with Northern Maine Medical Center advisers to devise the plan. 
"After careful consideration of what is occuring in each community, how effectively our school safety measures work, and the urgency to meet the various needs of our students, we have designed a transition plan that will safely lead us back to full on-site reintegration by February," Sirois said. 
The Valley Unified schools will move to a hybrid learning model beginning Tuesday, Jan. 19, and continue through Friday, Jan. 29. 
On Monday, Feb. 1, the students will begin a full on-site reintegration at the schools.