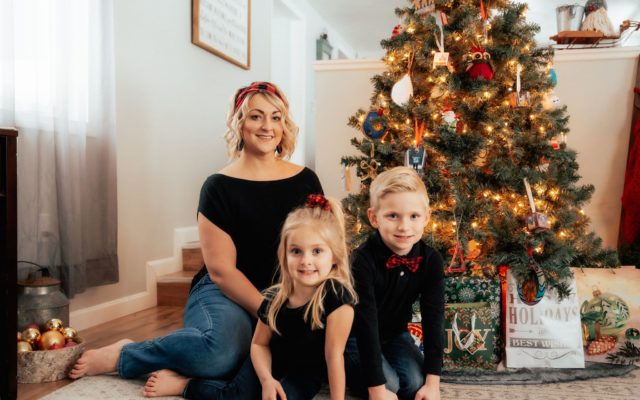 131462227_3252835081488867_805275579217831097_n (1)
Odds and Ends proprietor Nichole Jandreau with her daughter Everly (center) and son Grayson. (Nicole Cyr Photography)
New business 'Odds and Ends' provides grocery delivery, other services during pandemic
FORT KENT, Maine — A Fort Kent woman is offering grocery delivery and other services during the COVID-19 pandemic for St. John Valley folks who feel safer staying at home. 
Nichole Jandreau, 34, of Fort Kent began operating her home-based business Odds and Ends in October. 
Jandreau did not have COVID-19 in mind when she opened the business. 
"I was helping a girlfriend out one afternoon and picked up some of her stuff at the grocery store, while I was ther,e and when I went to drop her stuff off I let her dog out and I let her know," Jandreau said. "She responded with letting me know how much stress I had taken off of her shoulders for that afternoon because she was going to be working late and didn't know how she was going to take care of everything she had to, and it kind of clicked to me that there is sometimes just not enough hours in the day for people to get what they need done."
After that, Odds and Ends was born and has offered a multitude of services true to the business' name, from grocery shopping and other errands such as post office or UPS drop-off to home organization including pantries, basements and game rooms. 
"I would say I am a personal assistant for the everyday person," Jandreau said. "I've even gone and let people's pets out."
Currently all in-home services have been suspended due to the outbreak of COVID-19 in the St. John Valley, but Odds and Ends is still offering doorstep drop-off/pickup services. 
Payments can be made electronically in order to remain as contactless as possible.
"I wear a mask all the time and gloves when necessary," Jandreau said. 
Odds and Ends customer Anna Chiasson of Fort Kent called on Jandreau to help rearrange her family's closets this fall. Chiasson said she highly recommends Jandreau's services.
"With a toddler and both of us working full time, finding the time to switch over our summer to winter clothes seemed like a daunting task," Chiasson said. "What a huge relief it was to come home and it had been completed and sorted by color. We were truly impressed and it was a huge relief being able to take this off my to do list."
There are some services Odds and Ends does not provide. 
"I cannot commute people, only their things," Jandreau said. " I don't do 'grand menages' like big heavy cleaning; I'm just not physically able to handle really physically laborious jobs or big heavy lifting."
Jandreau graduated from Fort Kent Community High School in 2004 and from University of Maine at Fort Kent four years later with a business degree/communications focus. 
She spent almost 10 years serving as a Maine DHHS case manager in the Family Independence Unit and currently works as an academic skills specialist at UMFK. 
Jandreau lives in Fort Kent with her son, Grayson, 6, daughter Everly, 4, and the family's Siamese cat, Rock, who was a rescue obtained through PAWS animal shelter.