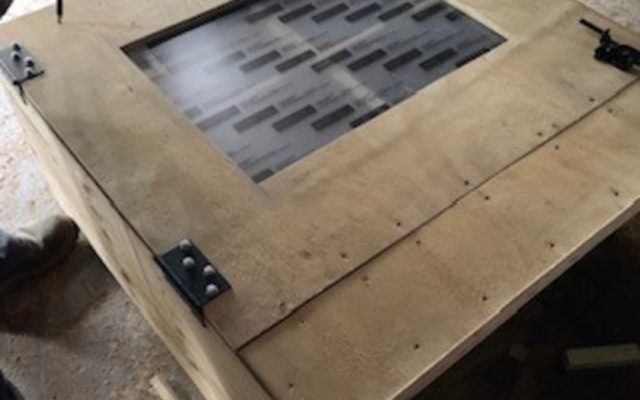 pic2 (1)
This is the pantry Samantha Thomas built for her silver award project with the Girls Scouts of Maine that will be installed at the Madawaska Public Library. (Courtesy of Jean Thomas)
Madawaska selectmen and library approve Girl Scout pantry project
MADAWASKA, Maine — The Board of Selectmen along with the Madawaska Library approved a site and granted permission for Samantha Thomas, a Girl Scout in Madawaska, to build and install a food pantry at the library for those in the area who might need some extra help. 
The Board of Selectmen approved and "fully support" the project, according to Madawaska Town Manager Gary Picard. However, there was a lot of back and forth on where the pantry should go. 
"In discussing potential locations at our last meeting, [the librarian,] Ken Theriault offered the library as a potential good location for the box," Picard said. 
The 13-year-old opted to do this project to help those in need. 
"There are a lot of people that don't have enough money to go to the grocery store and purchase what they need," Thomas said. "People are struggling to be able to purchase food occasionally. I thought this pantry could help them. At least help a little." 
For the Silver Award Project, Thomas had to come up with some sort of project that would help better the community. She landed on the idea of a food pantry to be placed in public for all to access free food if they need it. 
"I don't want to see people go hungry," Thomas said. 
Thomas had to plan what project she wanted, submitted the project to Girl Scouts Maine, answered questions from them and received approval, came up with a blueprint for the project, asked for help, got the supplies needed, asked for donations and built the pantry.
The next step is to install the pantry at the Library and collect food to be put in the pantry.  
"Once the final report is approved, I will have completed my Silver Award Project," Thomas said. "I will be awarded my Silver Award pin at the annual meeting in May 2021."
The pantry will be located at the Madawaska Public Library, and will be open all day, every day.  In the summer months, Thomas plans to make all nonperishable foods available, but in the winter months, remove items that can freeze. 
"We hope that people will be willing to drop off any nonperishable items to my pantry box anytime," Thomas said. 
Items available at the pantry — and needed as donations — include nonperishable foods, dog and cat items, baby items, hygiene items and school supplies.  
The pantry is scheduled to be completed by Oct. 10 at the Madawaska Library with a grand opening at 4 p.m. Friday, Oct. 16, and a food drive Oct. 17. 
"We are a small community that have always helped each other," Thomas said.