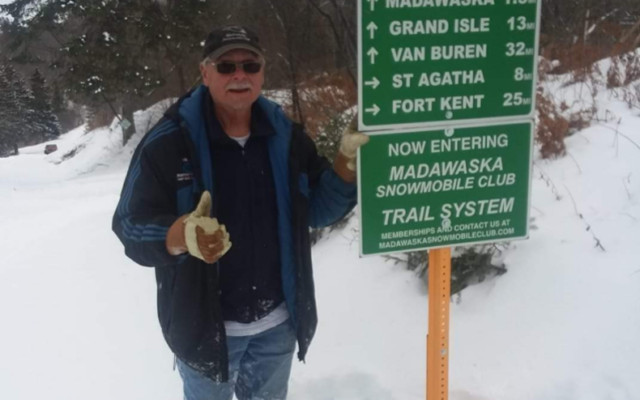 Snowmobile new signs
Jen Theriault, president of the Madawaska Snowmobile Club, stands next to one of the the new signs placed near the Madawaska trail system.(Courtesy of Lendell Buckingham)
Madawaska board designates new snowmobile trail access point, upsetting some residents
MADAWASKA, Maine — The Madawaska Board of Selectmen voted at its Oct. 6 meeting to approve a new snowmobile access point in town that would allow snowmobilers to enter part of Main Street.
Homeowners around the original access point near Central Building Supply noted safety issues during a Board of Selectmen's meeting in February, so that access point option was abandoned, Selectman Dan Daigle said at the meeting Wednesday.
To come up with a replacement, local business owner Pete Williams met with the snowmobile clubs, the town and area residents to come up with a solution for bringing recreational business to Madawaska.
After considering other alternatives in the area, all parties agreed to discuss the option of Riverview Street as the designated access point. Because the street is within town limits, the Board of Selectmen retains the right to designate town roads as access points to outlying snowmobile trails.
Town Manager Gary Picard said the new proposed access point would affect four homeowners.
While this would be a designated snowmobile access point, since the ATV trail also doubles as a snowmobile trail in the winter, ATVs have been able to use this route already. Some concerns brought up at the meeting included worries about "noisy" recreational vehicles driving past. One resident living on Riverview even cited her insomnia as a concern, saying that once she is awakened at 2 a.m. from the vehicles driving by, she cannot go back to sleep.
Williams, owner of the Shell Station, Bob's Neighborhood Store, said that he turns off his gas pumps when he closes up for the night and that no one should need to use that trail access point after he is closed.
Selectmen Daigle voiced concern that the new proposed trail access point on Riverview Street would not be acceptable due to safety concerns, and said that since eight of the residents in the area expressed disapproval of the proposed access point, that the route should be abandoned as well.
Selectman Laurie Gagnon said that if the town shuts down one access point, it would set a precedent to close others based on whether nearby residents approve of the access point.
Despite concerns, the board voted 3-1 to designate that portion of Riverview Street as a trail access point for snowmobiles in the winter and ATVs otherwise. Daigle voted against the designation of that access point.
The cross point from Riverview to Main Street will cut through homeowner Chad Vaillancourt's property. Picard said Williams and Vaillancourt will be working on the property to allow for access.
The next steps, according to Picard, are to coordinate between the snowmobile and ATV clubs to "make this happen."