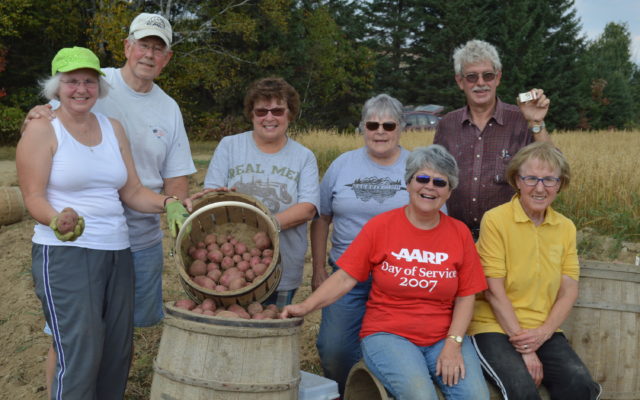 DSC_0590
Members of the St. John Valley Senior College participated in a potato picking adventure at Hermel Martin's farm in St. Francis. From left, are, Lucille Loder, Bill Loder, Linda Bechard, Rachel Marquis, Pat Dow, Lionel Bechard, and Anna Mae Raymond. (Courtesy of Don Raymond | St. John Valley Times)
St. John Valley Senior College still keeping seniors connected
FORT KENT, Maine — The St. John Valley Senior College is alive and well despite the challenges posed by COVID-19, according to the board of directors.
The fall semester is underway and there is still time to register for a variety of upcoming classes, all of which are being taught from a distance in order to keep people safe from the virus. 
Classes still available this semester are about Maine's German Prisoner of War camps, edible plants in northern Maine, creating a Christmas centerpiece, and a collection of local interviews with Dr. Marc Chasse. 
Classes are being offered this semester on ZOOM, a free and easy to use internet program, and some are being broadcast on Mondays and Thursdays at 7 p.m. on the local television channels WFKT (Fort Kent) and WOWL (Madawaska).
The $15 registration fee has been waived this semester. 
"It was understood that during these difficult times, it was important for everyone to have the ability to reach out this lifeline and continue learning," said board member Helen Nadeau.
In the past, the senior college classes were held in person, and included field trips to learn about beekeeping, a visit to a New Brunswick chicken farm and a potato picking adventure at a St. Francis farm.  
"This is typical of what our senior college classes are — we pick a topic and try to find out about it," board member Don Raymond said. 
Senior College Curriculum Committee Director Don Murray said the group currently has a running list of over 200 ideas for future classes. The committee will select 15 ideas each semester and contact a local instructor. 
"We've been very, very fortunate in the amount of people willing to share the knowledge they have, there are at least 10 every semester," Murray said. 
The college canceled all but one of their spring semester classes this year due to COVID-19, but are hoping to hold those again in the future. The minimum age requirement to become a member of the senior college is 50 years old, but anyone over age 21 is welcome to register for classes. 
For more information about the St. John Valley Senior College visit www.sjvsc.org. To register for classes by email contact register.sjvsc@gmail.com or to register by phone call 207-834-3536.