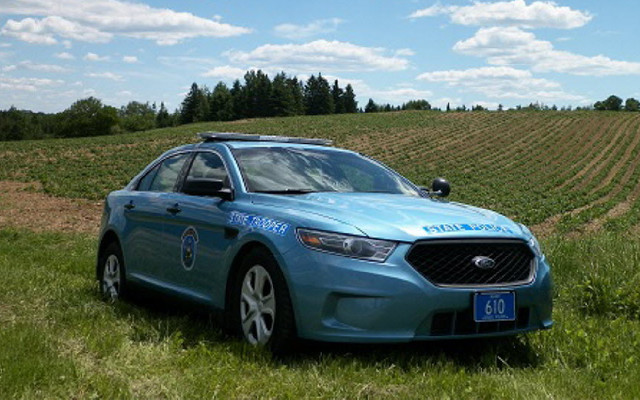 MSP_F
Maine State Police - Troop F - Aroostook County.
Troop F Report, Sept. 7-13, 2020
Editor's Note: An arrest or summons does not constitute a finding of guilt. An individual charged with a crime is presumed innocent unless and until proven guilty at criminal proceedings.
HOULTON, Maine — The Maine State Police Troop F barracks in Houlton responded to a number of calls for service during the period of Sept. 7-13, including the following.
Tuesday, Sept. 8
ISLAND FALLS — The Houlton Regional Communications Center received a 911 call from a male subject who advised he was just assaulted and had to point a firearm at the man that was assaulting him. Tr. Cotton, Sgt. Fuller, Tr. Mahon and the Aroostook County Sheriff's Office responded to the scene. Ultimately, it was learned the man was trying to buy a shed from the alleged assailant, who lived down the road and then decided to buy elsewhere. The suspect went to the man's house and they both got into a fight. The suspect then got the man in a chokehold to the point where he had difficulty breathing and could not get out of the hold, so he pulled out his revolver and pointed it at the alleged assailant. After numerous interviews of involved parties and witnesses, the suspect was arrested and charged with aggravated assault.
Wednesday, Sept. 9
ISLAND FALLS — Tr. Castonguay was patrolling on the Cold Brook Road, Island Falls, when he observed a vehicle with defective equipment. He conducted a traffic stop and suspected the female driver was impaired. After conducting field sobriety testing, the woman was arrested for operating under the influence and transported to the Aroostook County Jail for a breath test. After the test, she was able to post bail and was released.
MADAWASKA — Tr. Casavant assisted the U.S. Marshal Service with a warrant arrest for a local woman in Madawaska who had a fully extraditable warrant. The woman was arrested without incident and turned over to jail officials from the Somerset County Sheriff's Office.
Friday, Sept. 11
FRENCHVILLE — Tr. Desrosier was conducting traffic enforcement in Frenchville and observed a vehicle speeding. He conducted a traffic stop and discovered the male driver had a suspended Maine driver's license for not paying child support and for an OUI. Tr. Desrosier issued the man a criminal summons and had him arrange for transportation.
Saturday, Sept. 12
ST. FRANCIS — Tr. Desrosier was conducting traffic enforcement in St. Francis. He stopped a vehicle for speeding and during the stop discovered the vehicle's registration was suspended for evasion of tolls. Tr. Desrosier issued the man a warning for speeding and a criminal summons for the suspended registration.
Sunday, Sept 13
LITTLETON — Tr. Mahon responded to a report of a threatening. It was reported that a local woman made a statement threatening to shoot the neighbor if the police responded. As a result, from the investigation Tr. Mahon arrested the local woman and she was charged with terrorizing (Class D) and harassment (Class E).
LITTLETON — Tr. Rider received a PO violation complaint that involved two individuals who have PO violations on each other. Tr. Rider learned that one of the individuals has been calling and texting the other individual. Tr. Rider is still trying to interview both parties.
T11R4 — Tr. Levesque stopped a driver in T11R4 for speed. The vehicle was traveling 89 mph in a 50-mph zone. The driver was issued a traffic ticket for speed.