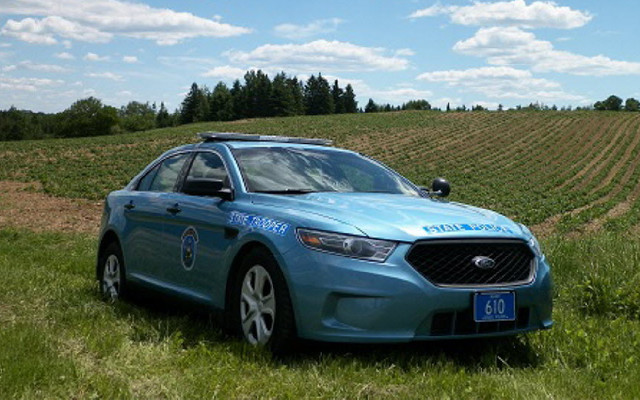 MSP_F
Maine State Police - Troop F - Aroostook County.
Troop F Report, Aug. 24-30, 2020
Editor's Note: An arrest or summons does not constitute a finding of guilt. An individual charged with a crime is presumed innocent unless and until proven guilty at criminal proceedings.
HOULTON, Maine — The Maine State Police Troop F barracks in Houlton responded to a number of calls for service during the period of Aug. 24-30, including the following.
Monday, Aug. 24
MADAWASKA — Tr. Martin was on routine patrol on Route 1 in Madawaska when he observed a vehicle with a defect. Tr. Martin conducted a traffic stop and learned the driver had a suspended driver's license along with a prior operating after suspension. The operator was issued a criminal summons for operating after suspension and violation of conditional release and a licensed driver was called to pick up the vehicle.
FORT KENT — Tr. Curtin arrested a Fort Kent man who was wanted on outstanding warrants while assisting the Fort Kent Police Department on another call. The man's warrants were for theft and violating conditions of release. He was arrested without incident and transported to FKPD.
Friday, Aug. 28
FRENCHVILLE — Tr. Desrosier was conducting traffic enforcement in Frenchville when he observed a male operating a dirt bike on the public road. Tr. Desrosier stopped the man and discovered his Maine driver's license was suspended. Tr. Desrosier issued a criminal summons to the man and helped him arrange to get his dirt bike home.
FORT KENT — Tr. Matt Curtin stopped a vehicle on East Main Street in Fort Kent for a traffic violation. Evidence of drug use was observed which led to a search of the vehicle. During the search, substances suspected to be heroin and methamphetamine were discovered as well as other items of drug paraphernalia. As a result of his investigation, Tr. Curtin arrested an 18-year-old woman of Allagash for possession of heroin and methamphetamine. She was transported to the Fort Kent Police Department where she later posted bail. She is due to appear in Fort Kent District Court on Dec. 7. Tr Curtin was assisted by Fort Kent PD on the stop.
Saturday, Aug. 29
LUDLOW — Cpl. Quint responded to a single-vehicle crash in Ludlow. An investigation determined the driver was at a friend's house and was leaving to go home. He was intoxicated and driving too fast on the dirt road. The man lost control of his truck, went off the left side of the road, and struck a tree. The man has several bail conditions prohibiting him from consuming and/or possessing liquor. The man sustained serious but not life-threatening injuries to his head, face and neck and was transported to the emergency room in Houlton. A warrant was obtained for the man's blood which has been sent to the lab for analysis. The man was issued a variety of summonses for operating under the influence, violating condition of release and operating without a license.