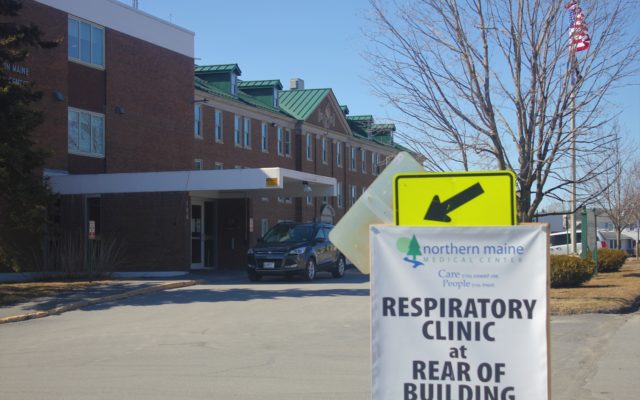 34042561_H26389477
A sign at Northern Maine Medical Center in Fort Kent directs people to its COVID-19 testing area. (Jessica Potila | SJVT)
Close contacts of Forest Hill employee who tested positive for COVID-19 test negative for the virus
FORT KENT, Maine — Those who were in close contact with a Forest Hill employee who tested positive for COVID-19 have tested negative for the virus, Northern Maine Medical Center Communications Director Sue Devoe said Wednesday afternoon. 
An employee of Forest Hill Long Term Care and Skilled Nursing in Fort Kent tested positive for COVID-19 on Tuesday, Sept. 22.
The employee, who does not have direct contact with patients, according to Devoe, was tested during mandatory testing at the 45-bed care center. 
In less than 24 hours of the notification, NMMC, which operates Forest HilI, has performed 164 tests on employees and residents.  
So far, 31 of those tests have returned with negative results. The remaining tests were pending Wednesday. 
"We are doing everything to address this situation and safeguard our staff, residents and the community," Devoe said. 
The Forest Hill staff member who tested positive has not displayed symptoms of the virus and is under quarantine.
"Our safety practices continue to be followed," Devoe said. "NMMC is proud of the team that mobilized quickly to put our planning into action. Our vigilance in following these practices will reduce the risk of spread of the virus, as we see in this case."
"It is very important to continue to wear a mask, wash your hands, and watch your distance," Devoe added.
Northern Maine Medical Center updates COVID-19 testing statistics Monday through Friday at www.nmmc.org.