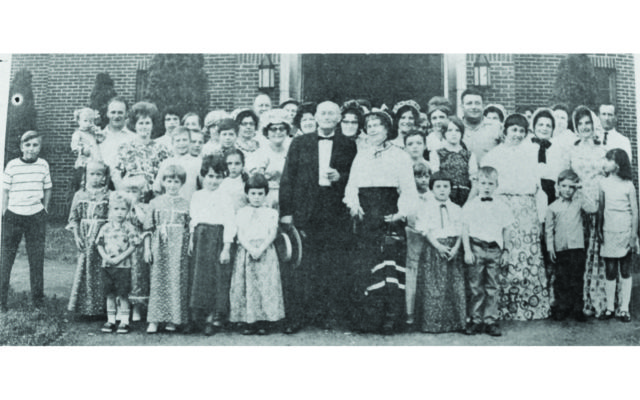 From our Files
Cyr Plantation Comes To Town For Mass  -- Everyone in Cyr Plantation backed the calendar up last Saturday evening, climbed into centennial clothes and joined Mr. and Mrs. Omer Dumont, the oldest citizens living in Cyr Plantation, to attend mass at St. Bruno's Church in Van Buren. (SJVT contributed photo 1970)
From our Files – Week of August 10, 2020
50 Years Ago — August 13, 1970
    It's about over for sewage project — The sewage project in Fort Kent is in its final stages. The treatment plant is now in operation and most of the sewers have been installed according to Tim Brown, project engineer. The completion date for all three contractors is August 27, 1970. 
Reunion day for Class of '21 — It was a day of all girl talk, August 10, 1970, when the only surviving members of the class of 1921 met at Mrs. Xavier Cyr's cottage in Sinclair to celebrate their 49th reunion. Mrs. Ernes Albert (Esther Dionne, Mrs. Eddie Durant (Edith Albert), Mrs. Xavier Cyr (Cecile Tardy), Mrs. Olivier Chamberland (Maria Bossie), Mrs. Albert Marquis (Marie Bouchard) and Mrs. Frank Kruse (Edwina Pelletier) was present. There were only 10 members in the class of 1921 and all but one were girls.
 25 Years Ago — August 16, 1995
Most opt for postsecondary education — The guidance department at Madawaska High School has reported that 62 percent of the Class of 1995 plans on attending some form of postsecondary education following graduation. According to guidance department statistics, 45 members of the 73 student class have expressed a desire to further their education. Of the 45, 34 students have chosen a four-year program while the remaining 11 have opted for a vocational program of less than four years, a two-year college program or a three-year college program. 
Dube became Eagle Scout — Jason Dube of Frenchville has become the 20th Boy Scout in Troop 270's 25-year history to gain the honor of Eagle Scout. Along with 12 required merit badges, Dube earned another 15 merit badges for a total of 27. Twenty-one merit badges are needed to apply for Eagle Scout.
10 Years Ago — August 18, 2010
Making History — Cathay Munford of Colts Neck, New Jersey, became the first woman on Monday to complete a 740-mile solo kayaking trip on the Northern Forest Canoe Trail without assistance. Mumford, 50, began paddling June 19 in Old Forge, New York, and crossed through Vermont, southern Quebec and New Hampshire before completing the trip at the northern terminus of the trail at Riverside Park on the St. John River in Fort Kent.