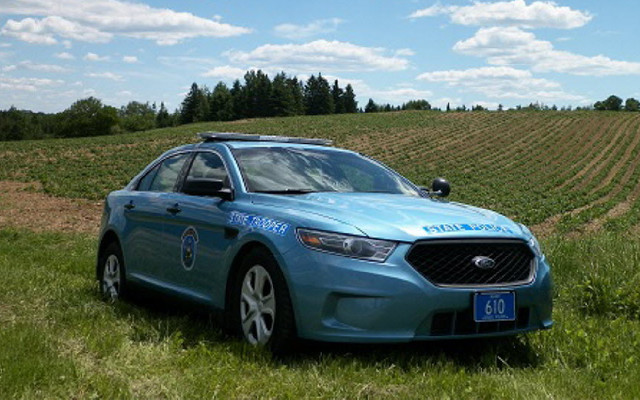 MSP_F
Maine State Police - Troop F - Aroostook County.
Maine State Police Troop F Report, July 13-19, 2020
Editor's Note: An arrest or summons does not constitute a finding of guilt. An individual charged with a crime is presumed innocent unless and until proven guilty at criminal proceedings.
HOULTON, Maine — The Maine State Police Troop F barracks in Houlton responded to a number of calls for service during the period of July 13-19, including the following.
Tuesday, July 14
MASARDIS — Tr. Cotton was patrolling in Masardis when he observed a vehicle traveling 70 mph in a posted 35-mph zone. Tr. Cotton pulled the vehicle over. The driver admitted he was doing 70 mph but thought it was a 25-mph zone. Tr. Cotton summonsed the male for criminal speed.
Friday, July 17
FORT KENT — Tr. Curtin was in Fort Kent when he saw a local woman he knew had a warrant out for her arrest. A computer check confirmed that she had a warrant for her arrest regarding an incident. She was arrested on the warran, and after checking with a probation officer, she was transferred to the Aroostook County Jail for a 120-day sentence.
Saturday, July 18
SHERMAN — Cpl. Quint responded to a car vs. deer crash in Sherman. While investigating the crash, it was discovered the female driver had a suspended Maine driver's license. The woman stated she was unaware of the suspension. She was issued a criminal summons for the violation and arranged to have a licensed driver come get her and the vehicle.
ST. FRANCIS — Tr. Desrosier was conducting traffic enforcement in Saint Francis and observed a vehicle exceeding the posted speed limit. Tr. Desrosier stopped the vehicle and as he spoke with the driver, he suspected the man was impaired. After conducting field sobriety testing, he arrested the man for operating under the influence and took him to the Fort Kent Police Department for a breath test. The man was issued a criminal summons for OUI and posted bail. He was also issued a traffic summons for speeding.
WOODLAND — Cpl. Michaud was called to a Woodland residence twice this week. The homeowners had been helping a family member over the years and had allowed him to stay at their home from time to time. The man eventually was not welcome at the home and had been warned for trespassing on several occasions. On the 17th, Cpl. Michaud warned him not to return one final time. On the 18th, he went back to the house early in the morning and was charged with trespassing.
MONTICELLO — Tr. Mahon charged a local woman for operating after suspension for the second time in as many months. He was in Monticello when he saw a woman driving on Route 1 whom he knew had a suspended license. Tr. Mahon had charged the woman on June 24 for operating after suspension. This time, she pulled into a driveway after seeing Tr. Mahon. She is now facing two Houlton court dates for the same charge.