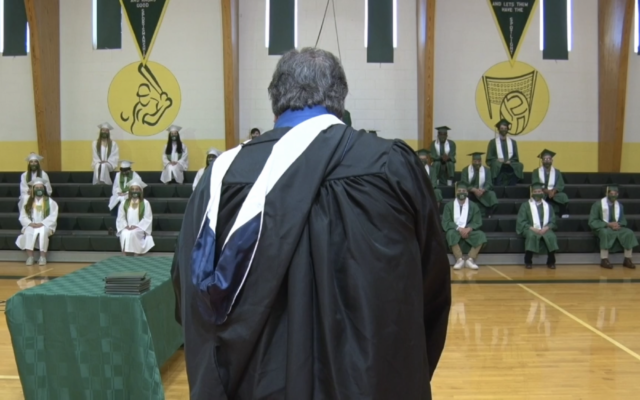 Wisdom graduates walk across the silver screen
MADAWASKA, Maine — The Wisdom Pioneers took over the Skylite Drive-in Tuesday night to put on the show of a lifetime: the Wisdom Class of 2020 graduation movie.
As the school year wraps up and goes down as probably the oddest school year on record, around 100 cars showed up for the pre-taped graduation video on the big screen.
Cars trickled in as soon as the drive-in opened until the show began at 8:45 p.m. Teachers walked around to cars handing out flowers to other staff and students while some distributed senior gifts and even popcorn for the movie.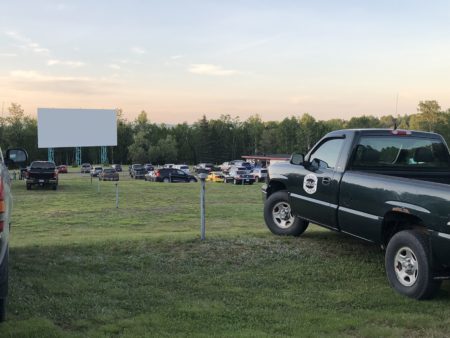 The movie showed the graduate procession into the gym, contained speeches from students, teachers and Principal Ralph Fantasia, showed each graduate walking across the stage, displayed the senior slide show and anything else that is in the traditional Wisdom graduation ceremony.
The students got to enjoy seeing themselves graduate while sitting with their family and friends — many of whom hadn't seen each other since the school went to online learning in March.


Valedictorian for the Class of 2020, Alyssa Pelletier said if she had known this school year would end three months early, she would have taken advantage of the time she was "physically in school."
"I would have spent more time with my classmates making as many memories as I could," Pelletier said in her speech. "It never occurred to me that I wouldn't get to spend the final stretch of this once-in-a-lifetime opportunity with the people I have been through it with. Each and every one of you has helped me become the person I am today, and I just wanted to thank you for that."
The graduation continued as people cheered for their graduates as they walked individually across the screen. But regardless of the cheer radiating from the drive-in, some bits of speeches brought bitter-sweet feelings.
"It is truly an inconvenience that this happened to our class, but at the very least we'll be in the history textbooks," Pelletier said.
Principal Fantasia went on to say that while many of the graduates might be missing all of those consistent school activities — like making it to class on time, going through the lunch line and other Wisdom High School-specific situations — this experience has shaped them into who they are and that they are stronger for it.
"Your generation has had quite a few of these surreal experiences in your lifetime," Fantasia said. "You were the first class born in the shadow of 9/11. Our country has been at war since before your first birthday. We had the economic crisis of 2008 by the time you were in first grade. I mean, 2020 had already been a pretty stressful year. Murder hornets? Really? And then along comes COVID-19. You have had a part of your senior year altered in ways that no one could have ever imagined."
Myra Beaulieu, mother of Micque Robertson, said graduation was a different experience.
"It was not like the years before. Nowhere near as hot," Beaulieu said after graduation. "I am very appreciative that I was able to watch him graduate because for a while, we thought a commencement wasn't going to happen. I still shed some tears regardless of the setting."
The Skylite Drive-in declined to comment on the event.