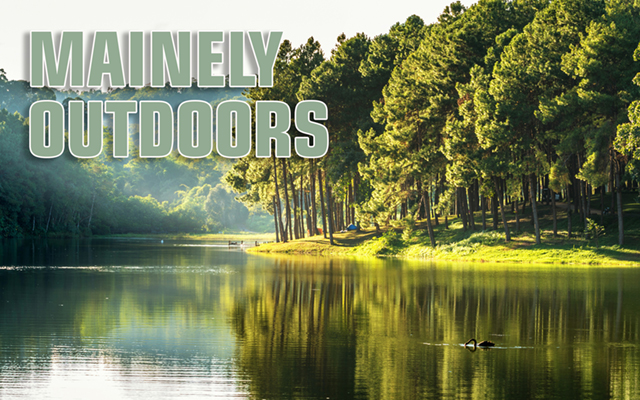 Maine's 2020 wild turkey season is underway
Maine's wild turkey season opened Saturday, May 2, a couple of days earlier than planned thanks to a decree by the Maine Fish and Wildlife Department. The COVID-19 virus pandemic has led to numerous changes, several affecting current and future outdoor ventures. 
For Aroostook County the change is a minor thing, since our outdoor conditions are two to four weeks behind central and southern Maine.  Warmer, dryer weather will make the last two weeks of turkey season more productive as mating and nesting season get into full swing.
Open until June 6, the spring turkey hunt allows sportsmen to bag one bearded bird in zones 1 through 6. While most of the other zones offer a Fall season as well, our region does not, so it's now or never for the main course at Thanksgiving dinner. It's legal to use a shotgun,( regular shell or black powder), bow or crossbow to down a gobbler as long as the hunter has all qualifying licenses and permits. Due to current flu guidelines, hunters will not need to visit a registration station with their turkey this season.
Most hunters in the Crown of Maine will already own much of the gear needed to go after one of these wily birds, especially if they hunt waterfowl each autumn. Full camo clothing from head to toe is a must, especially a face mask and gloves, and if you own a portable ground blind it's a plus. Twelve gauge shotguns in 3 or 3 1/2-inch are most popular, but a few shooters like the  longer range and heavier loads of the big 10-gauge. Young sportsmen and small-framed female gunners often turn to a 20 gauge, a few like a 16 gauge, and this just requires coaxing the feathered fowl a bit closer to the shooter.
Non-toxic shot is not required for turkey, as it is for waterfowl, so lead may certainly be used with size 4, 5, and 6 pellets being most popular. For a tighter pattern and a few more yards of shooting distance bismuth, tungsten, Hevi-shot, and copper coated lead are proven favorites for power and penetration.  A full choke shotgun is the best option if your scattergun isn't able to accept interchangeable choke tubes. 
There are some great, tight-patterned special "Turkey chokes" available for purchase at area sporting goods stores that can add at least 10 yards and a tighter, more lethal pellet pattern to any shotgun. Remember at 40 yards a turkey's head is a pretty small target and too sparse a pattern or a hole in the pellet cloud might mean a missed shot!
Once you've got your gun, choke, and shell choices sorted out and camo clothing settled, there are only two other necessities; decoys and calls I'd suggest two decoys to start with, a hen and a jake, which is a young male turkey for those not familiar with the term. The big Toms will spot the hen as a possible mate and perhaps be a bit less cautious as he hurries in to drive off the younger suitor. Two hens and a jake or a pair of hens and a fully fluffed up strutting Tom also work well.
 There are dozens of styles and postures of decoys, some fairly inexpensive, but the most realistic and durable will be over a hundred bucks. Some models even have remote control motion! Obviously the more features, the more money' and the more realistic. It's a long term, multi-year investment, buy the best you can afford. As for calls, they are arguably the most crucial piece of gear in attracting a turkey toward your decoys, your blind and you. Perhaps the most useful advancement to hunting wild turkey in the last 25 years is the portable, remote control wireless digital call. It uses recordings of live turkeys making various calls that the hunter plays and replays to fool real gobblers into investigating. It's simple and almost foolproof; well over a dozen models are available ranging in price from $40 to $200.
If a hunter prefers a more hands on experience, there are hundreds of box calls, mouth calls, friction calls as well as automatic push, shake, and rattle hand-helds. Some are simple and effective, while others require plenty of practice, but when mastered can mimic every real sound a turkey makes. Some calls can be purchased for only $10. 
After the recent May snowstorm, hopefully true spring conditions are here to stay, and with it an exciting and eventful turkey season. Once all the gear has been accumulated, the most important aspect yielding to filling a tag is scouting. It may take several outings to locate a flock and then pin down their roosting and feeding areas. Once that's accomplished it's a hide and wait endeavor with decoys and calling.
Rookie or old pro, bagging a big, long-bearded, heavily spurred Tom turkey is the greatest challenge and thrill of Aroostook bird hunting. Find out for yourself this month.