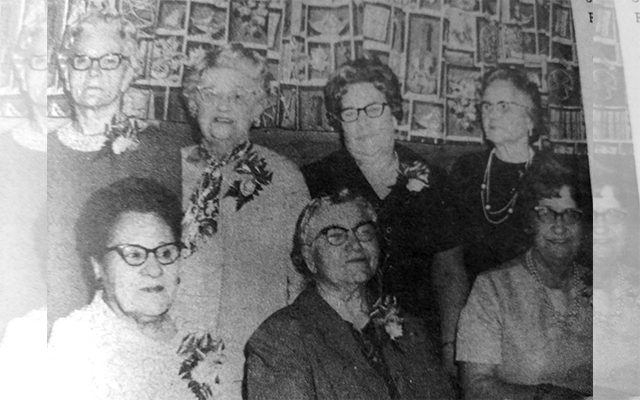 From our Files
Ft. Kent Legion Auxiliary Honors Gold Star Mothers -- The Martin-Klein American Legion Post recently honored Gold Star Mothers with a banquet at the Maple Leaf in Clair on May 13, 1970. Sitting from left are Mrs. Edith Madore, Mrs. Eugenie Roy and Mrs. Arthur Pelletier. Standing are Mrs. Alphonse Plourde, Mrs. Albina Morin, Mrs. Joe Michaud, and Mrs. Willie Pelletier. (SJVT contributed photo 1970)
From our Files – Week of May 18, 2020
50 Years Ago — May 21, 1970
    Centennial twins year old — Brian and Bruce Bouley of Fort Kent only have 99 more years to go before they see Fort Kent's bicentennial.
The twins celebrated their first birthday April 9, and were waiting for a taste of their cake. The pair were named official Fort Kent centennial twins during celebrations last year. They are the sons of Mr. and Mrs. Joseph W. Bouley.
Van Buren fire cause "undecided" — A fire, the cause of which has not yet been decided, leveled a 50-by-150 potato house owned by Tommy Ouellette in Van Buren and caused serious injury to one of the volunteer firemen battling the blaze. The estimated loss was $69,000. Approximately 6,000 barrels of potatoes were burned and equipment valued at $11,000 was destroyed. The loss was only partially insured.
 25 Years Ago — May 24, 1995
Dubois to be ordained — Andrew Dubois of Fort Kent will be ordained to the priesthood at St. Louis Church, Fort Kent, Saturday, June 10, 1995. The Most Reverend Joseph Gerry, O.S.B. will ordain Dubois. Dubois was born in Fort Kent Dec. 13, 1961, the son of Leonard and Edna Dubois.
Marching Pride — Members of the Pride of Madawaska Marching Band lived up to their name last week when they marched half-way across town to perform for the residents of Highview Manor in Madawaska.
10 Years Ago — May 26,  2010
New monument in Fort Kent — A new 12-foot wide, 28-foot long monument is going up soon to mark the beginning of historic Route 1 in Fort Kent. Due to the efforts of a group of Fort Kent businesspersons called the First Mile Advisory Board, the monument will be erected on West Main Street in place of the existing sign to welcome visitors to the beginning of U.S. Route 1.