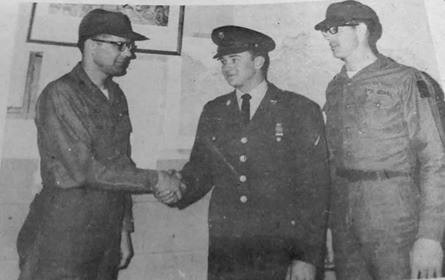 Files 19.20
Soldier Of The Month -- Pfc. Roland R. Derosier was named "soldier of the month" of May in Battery C, 1st Bn, 152nd Artillery, Maine Army National Guard in Fort Kent. He is pictured above, center, receiving congratulations from Sgt. Irvin Roy, left, while Lt. Joel R. Thibodeau looks on. Pfc. Derosier was chosen for his outstanding ability in military courtesy, performance and appearance as a soldier. (SJVT contributed photo 1970)
From our Files – Week of May 4, 2020
50 Years Ago — May 7, 1970
    Scout Receives 'Eagle' At Honor Court — Steve Young received the Eagle Award, the highest a Boy Scout can attain, when Troop 190 held a Court of Honor last Thursday at St. Thomas School. Ray Forest, district Scout executive, made the presentation.
Celebrates 102nd Year — Mrs. Charles Boudreau of Edmundston celebrated her 102nd birthday on April 29, 1970, and was presented a bouquet of roses and chrysanthemums from the Edmundston Branch, RCL, of which her son-in-law is a member and her daughter is a member of Auxiliary.
 25 Years Ago –May 10, 1995
Ice Out — Strong winds Saturday helped with the ice-out at Long Lake, so 4-year old Stephanie Dugal of St. David and 3-year old Emma Dionne of Grand Isle will have to wait another few months before resuming one of their favorite winter sports-waiting for the fishing line to bob.
Chief Lone Pine — Chief Lone Pine, a.k.a. Bob Bull, visited St. Francis Elementary School in full Indian regalia and presented a program on the life of Native American Indians Wednesday, April 26, 1995. He showed artifacts such as native tools, arrow heads, cooking utensils, blankets, drums and books. He also demonstrated Native American music and dances. 
10 Years Ago — May 12,  2010
Pickin' Fiddleheads Along The St. John  — Camille Morin, 81, of St. Agatha picked fiddleheads Friday morning along the St. John River at his favorite spot in St. David. A former potato farmer who raised ten children, Mr. Morin and many other Valley residents follow in their ancestors' footsteps and gather healthy and plentiful food from the woods, fields and hills surrounding them. In addition to fiddleheads, Mr. Morin also recently picked and cooked dandelion greens.