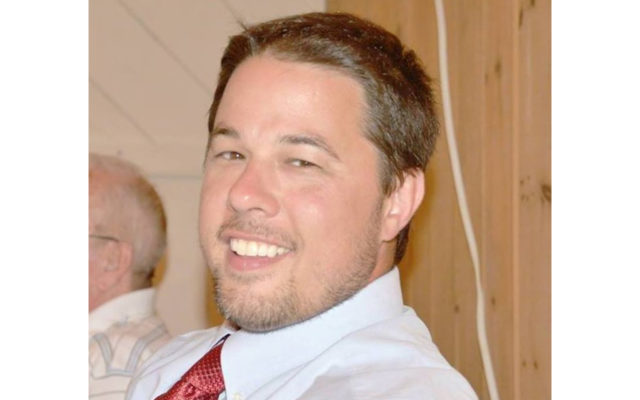 JoeyOuellette
Joey Ouellette (Joey Ouellette)
Fort Kent council candidate would focus on 'businesses, families and taxes' if elected
FORT KENT, Maine — Joey Ouellette was the only one of three candidates for Fort Kent Town Council who participated in a public Candidate's Forum held Monday, March 16, at the Fort Kent Municipal Building. 
Ouellette and two other candidates — Robert Michaud, a retired attorney and former council member, and Kevin Plourde, a lineman for Emera Maine — are running for one open position on the town council, a three-year term which will be vacated by Scott Pelletier, whose term is expiring.
"I'm a little disappointed. We had three people who were invited; we've got one that shows up," forum moderator Danny Nicolas said.
With the other candidates being no-shows, Ouellette, a former town councilor and registered nurse who just completed a 12-hour shift at Northern Maine Medical Center, took the sole hot seat as Nicolas grilled him on questions ranging from outmigration to school consolidation. 
Ouellette said that, if elected, his primary focus will be on businesses, families and taxes.
"It seems like the trend that I left is still going in the same direction. Taxes are still going up, businesses are still closing, families are still leaving. When I was on the town council I had started a bunch of initiatives to get families back here, to cut some huge budgetary costs and I feel like those things are really kind of just hanging in mid-air basically. And I really feel like I need to get back and finish what I started," Ouellette said. 
Ouellette said he is in favor of attracting tech jobs to the area.
"The technology sector is huge," Ouellette said. "Technology isn't going away; it's only getting bigger."
Ouellette went on to explain that he would plan on lowering taxes by increasing the tax base through attracting workers back to the area, reversing outmigration and lowering large line item taxes. 
"One of our biggest expenses is our trash — our waste — and I had started an initiative to start looking at ways we could lower that expense. I think we on average spend about $350,000 a year on that," Ouellette said. "That's just one among many budget items that I think we can look to lower. …There's a lot of other line items that we can look to lower expenses on." 
Nicolas asked Ouellette if he favors a proposed Valley Unified regional school being located in Frenchville. 
Ouellette answered that he does not. 
"If we lose our school, we're going to lose our community; it's that simple," Ouellette said.  
Nicolas then asked Ouellette what he would do to try and have the site for the proposed regional school moved from Frenchville to Fort Kent. 
"I don't really know how much influence the town council has on those decisions, but I would definitely try to maintain a close relationship with the school boards to find out what their plan is on continuing with a regional school, and what their thoughts are on trying to get the school in Fort Kent and working with them to see that through," Ouellette said. 
Ouellette is a former United States Marine who holds bachelor's of science degrees in business administration and nursing from the University of Maine at Fort Kent.
He and his wife Andrea are the parents of two school-aged children.
Voting for the Fort Kent Town Council election will take place 9 a.m.-6:30 p.m. Monday, March 23, at the Fort Kent Municipal Building. Only seven voters will be allowed into the voting booths at a time to maintain social distancing during the COVID-19 crisis.
Absentee voting is also available by visiting Town Clerk Angela Coulombe at the Fort Kent Town Office on weekdays from 10 a.m. until 3 p.m. until March election day. 
WFKTV-Channel 4 broadcast the Candidates Forum live, and the program is still available for viewing on the local television station's Facebook page.