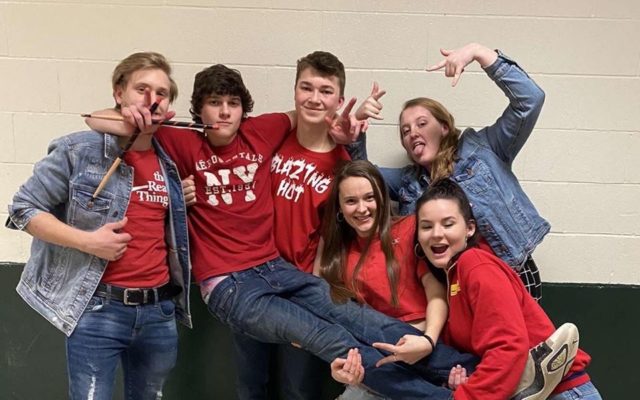 33217081_H26121521
The members of the Fort Kent Community High School junior class band "No Debt" are from left, Kaleb Carney, Raph Babin, Logan Levesque, Gabby Martin, Caitlyn Daigle and Jana Nadeau. (Courtesy of Eden Paradis)
Fort Kent junior class rocks its way to victory at annual Battle of the Bands
FORT KENT, Maine — Students, parents and educators rocked out with one another at Fort Kent Community High School on Thursday during the school's annual Winter Carnival Battle of the Bands competition. 
This year it was the junior class band that took first place with its rendition of the 1980s hit "You Give Love a Bad Name" by Bon Jovi. 
The band members named their group No Debt because they are "living freely" as they are still teenagers living at home with their parents. 
"It may be a competition, but we're all really out there to have fun," said No Debt lead singer Jana Nadeau. "It's an inclusive environment and even if you mess up on stage, everyone just keeps cheering you on."
The juniors also performed "I Hate Myself for Loving You" by Joan Jett, "Working for the Weekend" by Loverboy and "School's Out" by Alice Cooper. 
"We chose the songs we did because they were all crowd pleasers and they were very upbeat," said drummer Raph Babin. 
Battle of the Bands brings the student body together, according to No Debt rhythm guitarist Kaleb Carney. 
"I've never seen anything in school like Battle of the Bands, as it not only allows one to express themself in ways most people don't, but I've never seen anything bring all groups such as the more quiet kids and the sporty kids together better than Battle of the Bands," Carney said.
Carney, who also won the guitar solo competition at the event, said he began playing guitar about six years ago.
"I first started learning from videos on YouTube, but I couldn't have done that without my dad offering to show me something and even giving me his own acoustic guitar," he said.
Carney said he enjoys performing onstage during the Battle of the Bands. 
"I noticed how people reacted to me being on stage, and how me being up there could bring them together and really create something so beautiful you'd think you'd only see it in a movie," he said. 
Following the student band, the band Staff Infection performed a set of classic rock songs. The group is composed of CHS administrators and educators John Kaleta, Doug Clapp, Steve Doucette, Taylor Martin, Curt Harvey and Sylvia Dow-Harvey. 
Staff Infection performed the songs "Good Lovin'" by The Rascals, "Just What I Needed" by The Cars, "American Band" by Grand Funk Railroad and "Rockin in the Free World" by Neil Young.
"The teachers band Staff Infection did an outstanding job as usual. They grew up listening to music like that so when they play they are really in their element," Babin said.  
The crowd of students in attendance at Battle of the Bands cheered wildly while watching their teachers and principal perform 
"When Mr. Kaleta goes on stage and starts singing and jumping around, everyone loves it," Nadeau said. "We are lucky to have so many talented staff at our school."
"Staff infection was amazing and I'm proud to say that we have a great group of teachers willing to take time out of their days really just to make everyone smile and no matter what your band has gone through that night, they make sure to end it on a positive note," Carney added. 
Kaleta, who is the high school principal, said students benefit from the Battle of the Bands competition.
"It is a great way to enjoy music, build comradery and love of music," he said."We have a blast every year by bonding and becoming one with the student body. They are awesome kids." 
The senior class took second place in Battle of the Bands, followed by the freshmen in third place and the sophomores in fourth.
No Debt was so encouraged by its first place finish that the band members have formed a Facebook Page and plan to advertise its availability to perform at parties and any other community events. 
Jana Nadeau is the daughter of fiddleheadfocus.com/St. John Valley Times reporter Jessica Potila.