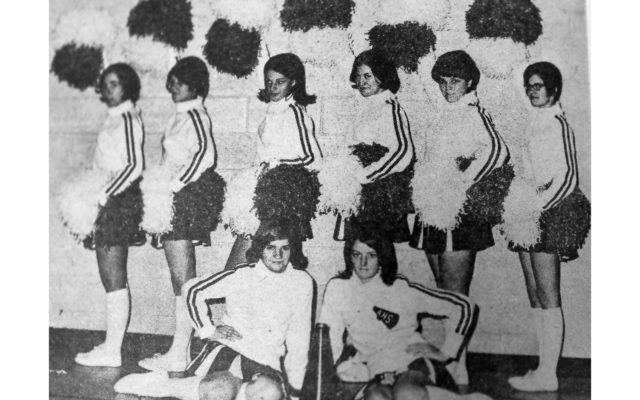 SJVT From Files 4.20
Allagash Cheerleaders -- Pictured are the Allagash High cheerleaders with their pom poms ready to whoop it up for their basketball heroes. In front are Ann Kelly and Jill Kelly. Standing from left, Marilyn McBreairty, Sandra Walker, Melody McBreairty, Rhonda McBreairty, Veronica Walker and Beatrice  betwO'Leary. (SJVT contributed photo 1970)
From Our Files – Week of January 20, 2020
50 Years Ago — Jan. 22, 1970
    Fr. Chalout Talks On Alaska — The Rev. Gilman Chalout of St. David was the guest speaker at the Madawaska Knights of Columbus hall Monday evening and told the group about his summer vacation in Alaska. Fr. Chalout pointed out the route he took on a map of the area. With Arthur Daigle of Fort Kent as pilot and Fr. Chalout as navigator, the two took off in a single-engine plane June 23 and returned to the Valley July 19. They went as far as Fairbanks, Alaska.
Maine National Guard Swears in 8 At Fort Kent — Enlistees being sworn in the Maine National Guard Battery at Fort Kent by Capt. Reynold Theriault were Clarence Levesque, Melvin Michaud, Roland Dufour, Ronald LeClair, Louis P. Cyr, Louis G. Cyr, Marc Plourde and William Belanger.
 25 Years Ago — Jan. 25, 1995
Ice Jam — An ice jam on the St. John River between Allagash and Fort Kent raised some apprehension about possible early flooding. The jam broke up on the weekend and the flood watch was cancelled. A few days of above-zero weather last week caused many rivers, lakes and streams to thaw, some flowing freely. Winter returned on Monday. 
10 Years Ago — Jan. 27, 2010
Archery On Target  At Madawaska High School — Arrows have been flying recently at Madawaska High School, where freshman physical education students have proven themselves as accurate bowmen and master archers. Although this is the first time many of the students have experienced archery, the 11 steps of the archery-in-schools curriculum has helped them achieve accurate arrow placement. Additionally, students have been able to compete with each other.