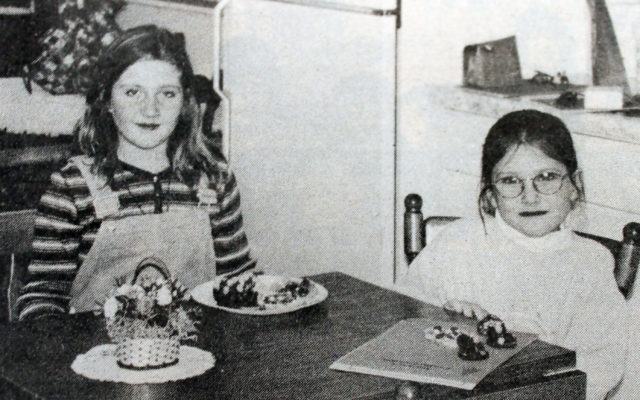 SJVT from our files 1.20
Cookies  -- Brownie Troop 280 got together at the Madawaska High School home economics room to learn how to make Christmas cookies. Each earned a badge for the project. Showing off some of their finished projects are Crystal Arnoldy, left, and Autumn Gudbranscam (SJVT contributed photo 1999)
From our Files – Week of Jan. 1, 2020
50 Years Ago — January 2, 1970
    Fourth Town OK's Valley Airport — The fourth town has approved its share of the regional airport to be located at Frenchville and their town fathers said "they wanted the public to know they are solidly behind the airport project." This remark came from St. Agatha officials after their citizens approved the town's cost of $2,126 on Tuesday at a special town meeting. Of the 40 people attending, there were only several negative votes.
Teenagers Sit In With Shut-Ins — The teens of Wisdom High have been conducting "sit ins" but not in the way you may think. These groups of students have been sitting with residents of St. Joseph's Home in Frenchville, helping the older folks have a good time. The young people play bingo, write letters, set ladies hair, or just plain talk, but their weekly visits have brought cheer to the people here.
 25 Years Ago — January 6, 1999
New  Year Baby — Trevor Cody Bouchard was the first baby of 1999 born at NMMC in Fort Kent, entering the world at 3:45 a.m. Jan. 2. He is the son of Donna and Andrew Bouchard and the brother of Shane Bouchard, all of Fort Kent.
Field Trip — Boy Scout Troop 196 from Van Buren recently visited the Smith & Wesson handcuff manufacturing plant in Houlton where they were shown the process in which firearms and handcuffs are made.
10 Years Ago — January 6, 2010
Math Meet Winners  — Wisdom took first place among all the Valley high schools in Math Meet 3. Andrew Malenica took first place for small schools sophomores with 13 points. Robbie Chamberland took second place for freshmen with eight points. "We had a very young team this time, and I am proud of them," said Ballerstein, Wisdom's coach and math teacher.