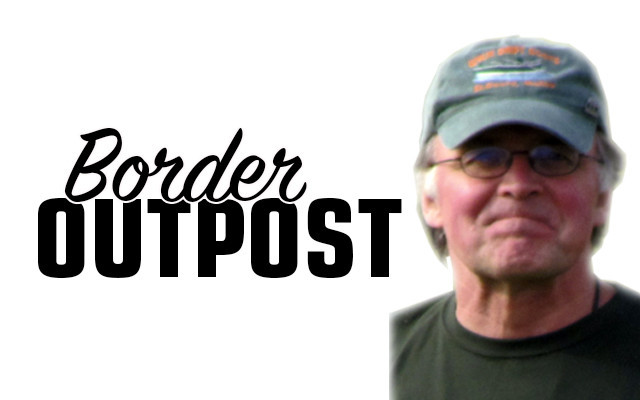 BorderOutpost-Wylie-640×400
An Acadian Renaissance
I recently resigned as president of the historical society because there are some things I cannot carry, the MS having much to do with it. Rather than using it as an excuse, there are other items within the society that probably will keep me attached to it, even if my usefulness is much diminished.
There is an overarching theme that keeps calling me to pay attention. Call it an Acadian Renaissance; something I think is culturally and historically long overdue. Therein hangs a problem. You can't rush artistry. 
A friend of mine is currently working under the onus of a deadline making artwork that I think will be one of the defining examples of local Acadian culture. I like to use the example of the illustrated manuscripts Icelandic scribes developed that today form the foundation of Iceland's history and culture. This is just such an example. I use the phrase 'an example' because there is much more to local culture that needs examination and explanation, but my friend's work is more than sufficient to form the start. Except you can't rush artistry. 
I had a conversation this morning with another friend about projects he is interested in seeing accomplished. One of them involves an Acadian loom I built with my intention to use it as an example of early Acadian ingenuity and economics. He proposed using the loom as a classroom teaching tool. I give him credit for taking the concept of the loom a step or two farther than what I imagined. I viewed the loom as a machine that made things and what I wanted to do was build the machine. The simple version goes 'see…this is how they made cloth to make money.' However, the loom is more than that. It's an example of Acadian culture. It contains within its construction the necessary ingredients for survival and growth; signal traits of the Acadian experience.
It's odd that I noticed how similar it was to what I saw in Iceland. The loom (a much simpler version) made cloth that was sold to the Norwegians for making sails, the kind used on Viking longships and merchant knorrs. The simple handloom was one of those premier ideas in Icelandic culture that made others aware of their abilities and craftsmanship. The same goes for Acadian weaving, made right here in Madawaska.
There was a whole infrastructure that went with the loom involved in raising and shearing sheep, spinning wool to make thread, weaving itself, the buyers and mercantile structure that go into the finished product, etc. etc. All of it involved hard work, ingenuity, artistry and great patience. And you can't rush artistry.
Money doled out by the Maine Acadian Heritage Council by the eyedropper-full is sometimes sufficient to sustain short term projects, but is heavily burdened with deadlines. I'm grateful for its existence in one sense, that it's the only device visibly supporting Acadian culture in the St. John Valley. When it goes, and that's inevitable, thus ends a mainstay for local culture.
The problem is that deadlines don't work for developing themes, making artwork, programming and other fundamental components of what could be called an Acadian Renaissance. Money, always in short supply, usually has to be expended in a limited time frame and not always at the pace of creativity. I've had my own experience with such deadlines and for the most part, they don't work in your favor.
I suppose at the other end of the spectrum, retirement has its own deadlines and shortcomings, but these seem manageable. I'm working on my own project, and the affliction and limited funds have their own timetable, but one adjusts accordingly.
Still, I wish I could see the Grand Design that results in an Acadian Renaissance, but the clock is running and I probably won't see it happen. Many of us, closer to the beginning of things, won't be around if and when it does.
I do take some comfort in knowing that the Icelanders started writing about their cultural beginnings in The Sagas of the Icelanders some 200 plus years after they settled in Iceland.
So there's still time…
Dave Wylie's life and work experience runs the gamut from newspaper editor to carpenter to grant writer to boat builder with lots of other work wedged in-between. Wylie currently is president of a management company that oversees an elderly housing complex and president of the local historical society. He resides in Madawaska.