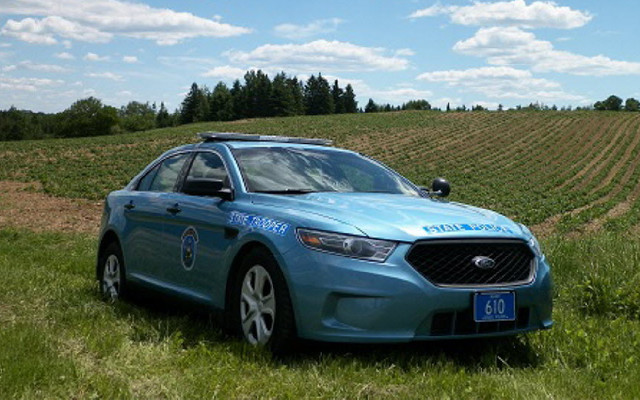 MSP_F
Maine State Police - Troop F - Aroostook County.
Maine State Police Troop F Report, Sept. 16-22, 2019
Editor's Note: An arrest or summons does not constitute a finding of guilt. An individual charged with a crime is presumed innocent unless and until proven guilty at criminal proceedings.
HOULTON, Maine — The Maine State Police Troop F barracks in Houlton responded to a number of calls for service during the period of Sept. 16-22, 2019, including the following.

Wednesday, Sept. 18
PATTEN — Tr. Cotton was in Patten and was aware of a male who had an active arrest warrant. Tr. Cotton located the male and he resisted arrest. Tr. Cotton deployed his taser and took the male into custody. Tr. Cotton transported him to Millinocket hospital for medical clearance and then to Penobscot jail on the warrant, resisting arrest and possession of drugs. 
Friday, Sept. 20
PRESQUE ISLE — Tr. Levesque assisted The Presque Isle Police Department with attempting to locate a male subject who was suicidal and intoxicated. Tr. Levesque located the male and arrested him for operating under the influence of alcohol.
Saturday, Sept. 21
LITTLETON — Cpl. Quint responded to a two vehicle crash in Littleton. A potato truck was making a left turn and an SUV was slowing/stopping in traffic while the truck turned. The driver of a pickup was reading a text message on his cellular phone and did not see the SUV stopping. The truck hit the rear of the SUV, causing extensive damage. Further investigation determined the driver of the pickup was intoxicated. The man was arrested for OUI and received a summons for using a hand-held device while driving. The driver of the SUV was transported to the emergency room at Houlton Regional Hospital due to neck and back pain. It is suspected the driver may have broken bones in her back.
MARS HILL — Tr. Kilcollins was conducting traffic enforcement on U.S. Highway 1 in Mars Hill, and observed a vehicle with a defective taillight. During the stop, Tr. Kilcollins discovered the male driver had a revoked Maine driver's license, had current bail conditions, and had a warrant for his arrest. The man was arrested for operating after revocation, violation of conditions of release, and for the warrant. He was transported to the Aroostook County Jail in Houlton.
Sunday, Sept. 22
CYR PLANTATION — Tr. Kilcollins was conducting traffic enforcement in Cyr Plantation and stopped a vehicle for a minor infraction. During the course of the stop, he discovered the pickup, registered in Tennessee, had expired in 2017. Tr. Kilcollins issued the man a criminal summons for the unregistered vehicle.