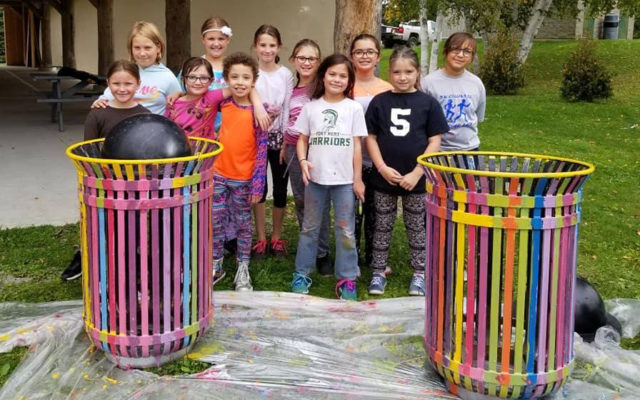 girlscouts
Girl Scout Troop 83 in Fort Kent decorated trash cans at Riverside Park as part of a take action project. Front, from left: Tenley Marquis, Annie Kelly, Jaylynn Kirk, Charlotte Grange and Persephone Kilcollins. Back, from left: Rosie Jandreau, Cassidy McBreairty, Grace Doustou, Kaylen Theriault, Nicole Daigle, and Sophia Anoushfar. (Courtesy of Bettina Grange)
Girl Scouts decorate town trash cans
FORT KENT, Maine — Members of Girl Scout Troop 83 in Fort Kent are hoping more people will use the trash cans at Riverside Park now that the girls painted them as part of a scouting project.
"They talked it over at a meeting, and thought that if they decorated some trash cans at the park in a fun and colorful way, they would be more noticeable, and people might be inclined to use them more rather than litter," said Troop leader Bettina Grange. 
The girls have been learning about the outdoors and keeping the environment clean, Grange said. 
"They've gone camping and hiking. They've visited animal habitats, cleaned up litter at the park, and learned the principles of Leave No Trace," she said. 
The young Scouts sought and received permission from Fort Kent Town Manager Suzie Paradis to decorate the trash cans, and on Monday, Sept. 16, they set to work, painting the receptacles in bright colors.  
"They were so excited and very proud of their hard work," Grange said.