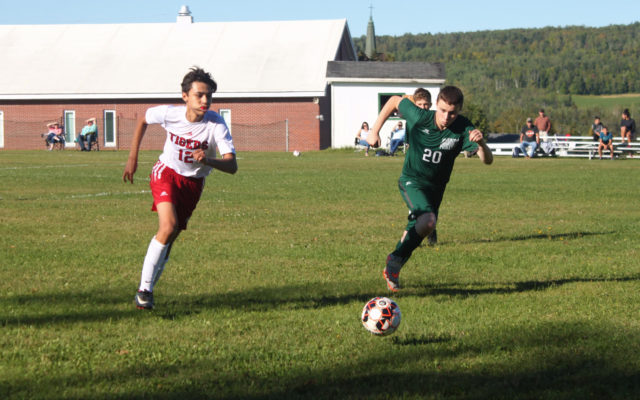 wisff
The Wisdom Pioneers take on the Fort Fairfield Tigers on Friday, Sept. 6 in St. Agatha. (Jessica Potila)
Wisdom boys win against Washburn, fall to Tigers
ST. AGATHA, Maine — The Wisdom Middle/High School boys varsity soccer team racked up its first win of the season against Washburn on Monday in St. Agatha.
The Pioneers' 7-3 win over the Beavers included two goals apiece by Carter Pelletier, Sam Roy and Dominick Gendreau. Jake Roy scored one goal. Pelletier and Gendreau also registered two assists each.
The Beavers saw goals by Aidan Churchhill, Russel Farley and Gavin Dunagan.
The Wisdom boys opened the weekend with a less successful match-up, falling to Fort Fairfield 4-1 on Friday. Roy scored the singular goal for the Pioneers during that game, with an assist by Kaden Daigle. 
Tiger Dawson Watson scored two goals and had one assist. Alexander Oakes and Chase Coiley scored the other two goals for Fort Fairfield.