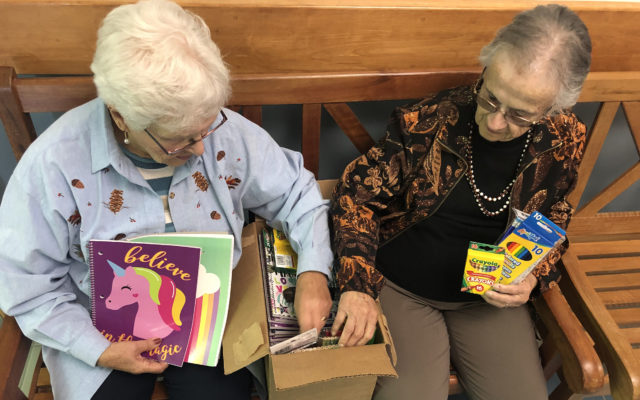 IMG_1784
Alex Michaud and Candid Bouchard look though the school supplies they are donating to the Madawaska Elementary School. (Morgan Mitchell)
90s Club helps children by donating school supplies
MADAWASKA, Maine — A group of senior citizens from Ridgewood Estates donated a box full of school supplies to the Madawaska Elementary School Sept. 5 in honor of the first day of school and to help those in need of a little help. 
The seniors call themselves the 90s Club because each member is in their 90s but remain active in the community by volunteering. They do four special volunteer pushes throughout the year. 
Last year, the group collected 240 pounds of clothing to be sent to the hurricane victims in Florida.The year before that, the seniors made tie blankets for the victims of Hurricane Harvey that hit Texas. The group also does a lot during the holidays to make sure people feel loved and special.
With the beginning of school.  came the need for school supplies, and thanks to the 90s Club, students and classrooms in need were provided with some. The 90s Club dropped off a box full of notebooks, crayons, colored pencils, and more.
"The residents want to be part of their community, and they want to give back," said Paula Gendreau, activities coordinator at Ridgewood Estates. "And with the employment situation, and the worries of the mill, they thought it would be nice to help the children here." 
The group worked with a local business in town and did a drive to collect the much-needed supplies. 
"I think it is really awesome that the community is so supportive of Madawaska Elementary School, and we appreciate anything that we can get," said Tricia Armstrong the guidance counselor for the elementary school. 
Alex Michaud, 92, and vice president of the 90s Club Candid Bouchard, 91, were there to deliver the box of supplies to the school. 
"They are special, vibrant ladies and I hope to be like them when I get over 90," Armstrong said.