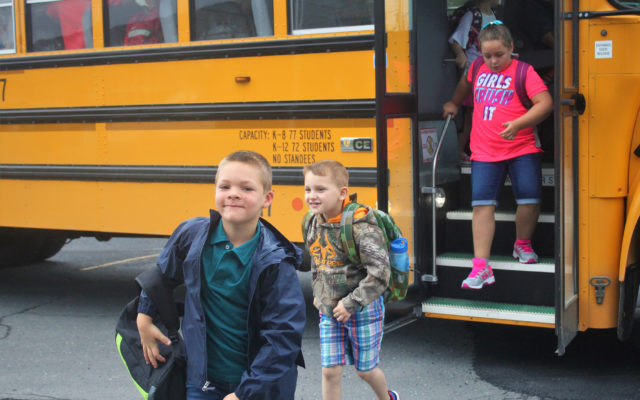 school2
Students returned to Fort Kent Elementary School for the first day of the 2019-2020 school year on Thursday, Aug. 22. (Jessica Potila)
Voters approve 2019-2020 SAD 27 school budget hours before first day of school
FORT KENT, Maine — Students in SAD 27 began the school year on Thursday, Aug.22, with a new school budget in place.
Voters in Fort Kent, New Canada, St. Francis, St. John and Wallagrass approved the proposed 2019-2020 school budget by a significant margin at a Wednesday, Aug. 21, referendum, just hours before school started.
District voters approved the budget with 417 in favor and 282 against on Wednesday.
A majority of voters in each town approved the new budget with Fort Kent voting in favor of the budget 304-227, New Canada 21-9, St. Francis 24-10, St. John 28-6 and Wallagrass 40-30.
Students returned to Fort Kent Elementary School for the first day of the 2019-2020 school year on Thursday, Aug. 22. (Jessica Potila)
This was the second proposed budget SAD 27 officials presented to voters this year.  
The first failed to pass at a June referendum vote.
District officials revised the initial budget by making $190,097 worth of cuts which  included the elimination of the head custodian position at Fort Kent Elementary School along with two special education one-on-one positions, technology software and an early elementary literacy program.
The cuts brought the most recent budget to $11,980,788, which is a 1.8 percent increase over last year's budget.
Had this revised budget failed to pass, district officials would have considered further cuts including a class size audit to examine possible reductions in teaching positions, elimination of sub-varsity sports and middle school B teams, pay-to-play for remaining sports, elimination of after-school programming at Fort Kent Elementary School, elimination of late bus services, and a reduction of the Pre-K program to two days per week.  
The youngest of the district students who walked, rode buses or were dropped off by parents on Aug. 22 seemed unaware of all that went into funding their education as they filed into Fort Kent Elementary School ready for the new year.