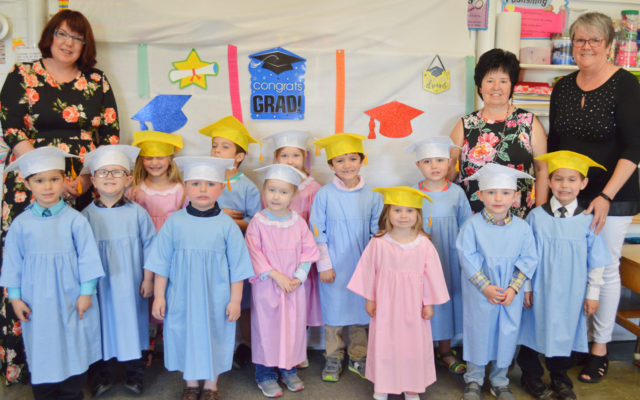 SJ-KidsGrad-27-19
Le Club Français of the St. John Valley sponsors a French preschool at Dr. Levesque Elementary school in Frenchville. In a celebration at the end of the 2018-19 session, the students shared with family and guests some of the French they had learned during the school year. The young graduates include, from left, front row: Lucas Bouley, Malachi Pelletier, Hayden Pelletier, Ryleigh Favreau, Avery Gagnon, Oliver Theriault and Elijah Grange. Back row, Raeya Babin, Lucas Corriveau, Izabelle Gagnon, Joseph Paradis and Shea Fogarty. Staff include, from left, Rachel Fortin, teacher aide; Pauline Chamberland, teacher; and Carol Parker, teacher aide. (Courtesy of French Youth Programs)
La Maternelle French immersion program plans open house
FRENCHVILLE, Maine — L'Association Française de la Haut Vallée Saint-Jean/Le Club Français announces an open house on Saturday, Aug. 31, for their French Youth Program, La Maternelle French Immersion Pre-School.  

All parents and students are welcome to the open house at the Dr. Levesque School in Frenchville, from 9 to 10 a.m. for the morning session students and from 10 to 11 a.m. for the afternoon session students.
Preschool classes will be held Mondays through Thursdays (barring holidays and vacations) starting Sept. 3 and ending June 4, 2020.  
This French immersion program focuses on teaching youth their Acadian heritage and the ability to communicate with their relatives of French descent (especially elderly family members).  This is all done in a spirit of fun and excitement for young students. Le Club Francais is always working to preserve French Acadian heritage and roots. 
This program is open to all children between the ages of 3 – 5.  For further information, contact Nancy Dionne, French Youth Program director, at frenchyouthprogram@gmail.com, or visit Facebook at www.facebook.com/bilingualbuddies.