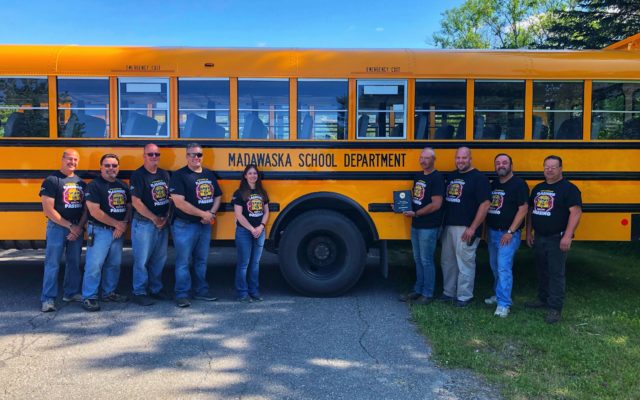 67107767_2249525455163697_8104386773955641344_n
This team of Madawaska bus drivers took the team award at this year's Driving Skills Competition. (Left to right) Andrew Daigle, Roger Lagasse, Paul Michaud, Paul Chasse, Lisa Beaulieu, Allen Ouellette, Corey Morin, Gilbert Cyr, Peter Collins (Morgan Mitchell)
Valley transportation has drive
MADAWASKA, Maine — Eight members of an elite squad of bus drivers from Madawaska and one from Fort Kent allowed the Valley Unified fleet of buses to take first, second and third places at a bus competition held June 25 in Presque Isle. 

Madawaska's transportation scheduler Lisa Beaulieu led the Madawaska driving team to victory for the Driving Skills Competition at the annual training. 
For the competition, drivers are told to go through various obstacle courses and perform special driving skills that include parking really close to a line in the bus, a diminishing test where they have to drive down an increasingly narrow road, a tennis ball challenge where they have to drive through the obstacle course of tennis balls and not touch any. 
Another part of the competition was to get on a bus and list everything wrong with it within a very short amount of time. 
"They had to find defects, whether it was faulty lights or a seat that wasn't attached or an alarm that isn't sounding. They think hard and they made them hard," Beaulieu said. 
Each driver from the Madawaska schools competed individually, but collectively scored the highest and won the team driving award — something Madawaska hadn't seen in more than 11 years. 
"They are very cautious in how they drive, and I didn't think it was any different when they were doing the competition than as they are when they are driving students daily," she said. 
Corey Morin of the Madawaska School Department got first place overall against more than a dozen schools with more than 50 drivers at the training and competition. 
"I just did it for fun," Morin said. "We were trained to drive the bus and we do it the best we can, and I never expected it. I was never trying to win." 
Ricky Labbe of SAD 27 won second place and Allen Ouellette of the Madawaska School Department took third at the competition, making Valley Unified, as a whole, the winners of the top categories. 
"I think once they won the team award they thought, 'hmmm… we did pretty well, we do pretty good together,' and they do. They do a very good job at driving," Beaulieu said. "It was a very good experience for them." 
Morin added that this competition was a great way to improve their driving skills to make sure to keep the students of the Valley safe. 
"We just want to make sure we are doing the best we can with the precious cargo we have," Morin said.