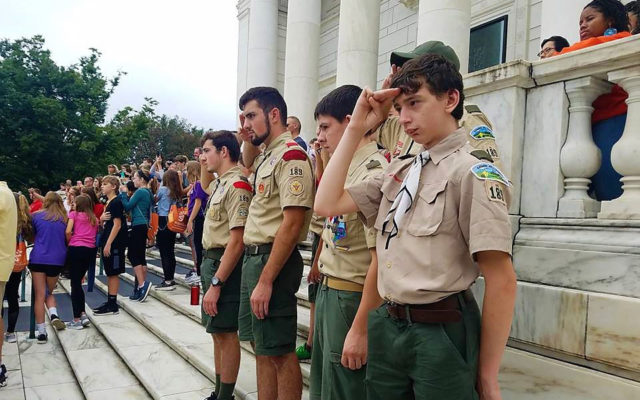 SALUTE__2__23885898
Members of Boy Scout Troop 189 out of Fort Kent salute the changing of the guard at Arlington Cemetery in Washington D.C. (Michelle Plourde Chasse)
Boy Scouts to cook up breakfast feast and host silent auction fundraiser
FORT KENT, Maine — Members of Boy Scout Troop 189 will host a Family Day Breakfast and Silent Auction fundraiser on Sunday, June 9.

"It's a great way to have a wonderful meal and support the Scouts. The Boy Scouts do a lot of community service throughout the year and really help make our town a better place," said Troop 189 parent helper Jessica Landry. "There will be lots of items to bid on during the silent auction that so many of our community's generous businesses donated."
The 15 active members of Troop 189 will serve up a feast of eggs to order, bacon, sausage, home fries, french toast casserole with strawberries and whipped cream, fruit cups, coffee, tea and orange juice.
The event will be held 7:30 a.m.-noon Sunday, June 9, at Fort Kent Elementary School, located at 108 Pleasant St.
The cost of the meal is $5 for children ages 10 and under, and $8 for everyone else.  
All funds raised will support Boy Scout Troop 189.