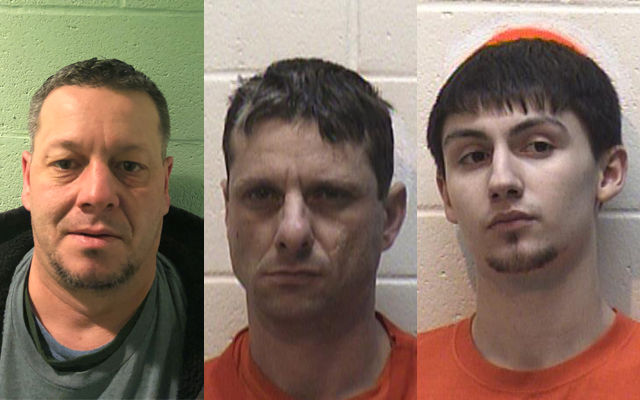 FaggioleFaggioleRaymondArrests
Jonathan Faggiole of St. John, Jason Faggiole of St. John, and Corey Raymond of Fort Kent. (Courtesy of Maine State Police)
Police arrest three men at St. John apartment
ST. JOHN, Maine — Police searching for a wanted St. John man arrested him and two other men at an apartment in town on Tuesday, Feb. 12.
Maine State Police Trooper Matt Curtin was investigating the whereabouts of Jason Faggiole, 36, who police wanted on two outstanding warrants — one involving a charge of theft by unauthorized taking or transfer, and the other a probation revocation stemming from an original charge of domestic violence.
As he investigated the case, Curtin received information that Faggiole was staying at the American Dream apartment complex in St. John. The trooper then obtained a search warrant of an apartment at the complex.
Police executed the search warrant at 7 p.m. on Tuesday and located Faggiole at the apartment.
While inside the residence, police also located 20-year-old Corey Raymond of Fort Kent and arrested him on eight outstanding warrants involving violation of conditions of release and charges of theft and possession of scheduled drugs.
Police transported Jason Faggiole and Corey Raymond to the Aroostook County Jail.
Police also arrested and charged Jonathan Faggiole, 45, of St. John with hindering apprehension for allegedly harboring the fugitives.Jonathan Faggiole will appear Monday, April 1, at Fort Kent District Court.
Members of the Maine Warden Service, Aroostook County Sheriff's Office, U.S. Border Patrol, Fort Kent Police Department, and state police assisted Curtin with the investigation.