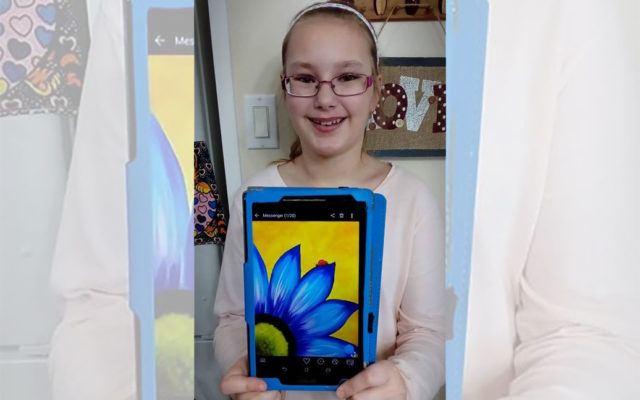 brooke_edited24387857
Brooke Levesque holds a photo of the flower participants will paint at the Paint Date sponsored by Happy Tails Bakery set to happen March 30. (Contributed)
'Paint Date' to benefit County animals
MADAWASKA, Maine — Happy Tails Bakery will host a "Paint Date" fundraiser to gather funds and supplies for local animal shelters at 1 p.m. on Saturday, March 30.
The local pet treat mobile bakery, run by daughter Brooke, 10, and mother Brenda Levesque of Madawaska, hosted their first painting fundraiser last year and were able to donate $170 and an assortment of food, toys, and shelter supplies to PAWS in Fort Kent.
This year, Brooke plans to donate the proceeds to two animal shelters — PAWS and the Central Aroostook Humane Society in Presque Isle.  
"Brooke has always been compassionate about animals and it brings her joy knowing that she can help any way she can," Brenda Levesque said.
Happy Tails Bakery began after young Brooke read the labels of pet treats and decided to make a product with "human-grade ingredients," according to her mother.
"There are no preservatives, fillers, artificial colors or flavors and no cancer-causing chemicals, just simple ingredients made with love by Brooke," she said.
The Paint Date will take place at Big Rick's Burgers and Wings in Madawaska. Micheline Clavette, who runs Face Painting by Mimi, will lead participants as they learn how to paint a flower on an 11-by-14 canvas.
The cost to attend is $40, $10 of which will go toward the fundraising efforts. However, Brenda Levesque said, if a participant brings a donation of cat or dog food or any other shelter supplies, they will receive $5 off their admission.
"Animal shelters work for a noble cause, helping those who have no voice," she said. "Fundraising for an animal shelter isn't easy, and coming up with effective ideas to fundraise can be difficult."
There are only 30 seats available. To reserve a spot, prospective participants should call Clavette at 316-3332.