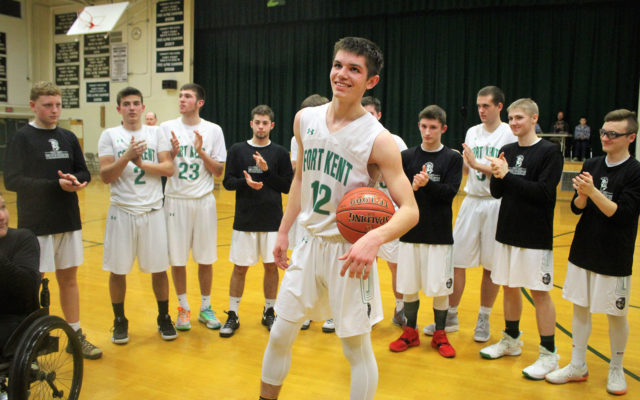 calebd2-24380959
A large crowd gave a standing ovation for Fort Kent senior Caleb Delisle, who reached 1,000 points in his high school basketball career Monday, Feb. 4, in Fort Kent. (Jessica Potila)
Delisle scores 1,000th point on senior night
FORT KENT, Maine — In front of a packed audience of his family, friends and Warrior fans, Fort Kent Community High School senior Caleb Delisle reached a coveted milestone in high school basketball as he scored the 1,000th point of his career Monday, Feb. 4.  
Delisle entered the game against Madawaska 20 points shy of the scoring achievement. Perhaps it was only fitting he reached the milestone during the last home game of the season, which also served as senior night for the Warriors.
Senior Caleb Delisle of Fort Kent Community High School scored 20 points during a home game against Madawaska on Monday, Feb. 4 to cross the 1,000 point mark of his high school career. (Jessica Potila)
Tammy Delisle (center) and her husband Travis Delisle (standing in front of Tammy Delisle) celebrate after watching their son, Caleb Delisle score the 1,000th point of his high school basketball career at Fort Kent Community High School on Monday, Feb. 4. (Jessica Potila)
Delisle's parents, Travis and Tammy Delisle attend all of his basketball games, as they  did Monday evening.
"It feels great. My dad coached girls basketball, so I grew up watching four girls score 1,000 points," Caleb Delisle said. "It just means the whole world to me to do it here with my parents and friends."
Delisle crossed the 1,000-point threshold with a shot he has made many times throughout his career — a fadeaway jumper. Fellow senior Camden Jandreau assisted his shot with 2:26 remaining in the third quarter.
"I'm very, very, very happy," said Travis Delisle after the game. "He's spent a lot of years, lots of time in the gym working very hard. I'm very grateful he accomplished this. It's always been a dream of his."
"He's been in this gym since he was six months old while his dad was coaching," Tammy Delisle added of her son. "He grew up here."  
Delisle's achievement marks the first time in 23 years that a member of the Fort Kent  Community High School boys basketball team has scored 1,000 points. The last was Ryan Martin in 1996.  
In 2018, Cassidy Lovley of the Warrior girls also scored 1,000 points.
Boys basketball head coach Derrick Cooper said he is proud of Caleb Delisle, who he has coached all four years of high school. Cooper said Delisle is ​one of the most committed basketball players he has ever coached.  
"Caleb lives and breathes basketball," Cooper said. "If he is not practicing with us he is working at the University with his father and other coaches in the area to better his game. Caleb is one of our two captains on the team and he has shown great leadership on and off the court. Caleb's basketball IQ is very high and he does his best to try to relay his knowledge with his teammates."
In a show of sportsmanship, the Owls and their supporters joined in a standing ovation
for Delisle after he made the once-in-a-lifetime basket.
The Warriors are 13-4 on the season and ranked sixth in the Class C North standings with one game to go. Fort Kent travels to top-ranked Central Aroostook High School (15-2) on Wednesday, Feb. 6, at 7 p.m.
After that, it is on to the postseason for the Warriors as the team will likely host a preliminary playoff on Wednesday, Feb. 13.
Once their season is over, school officials will add Delisle's name and complete point total to a banner hanging in the gymnasium.