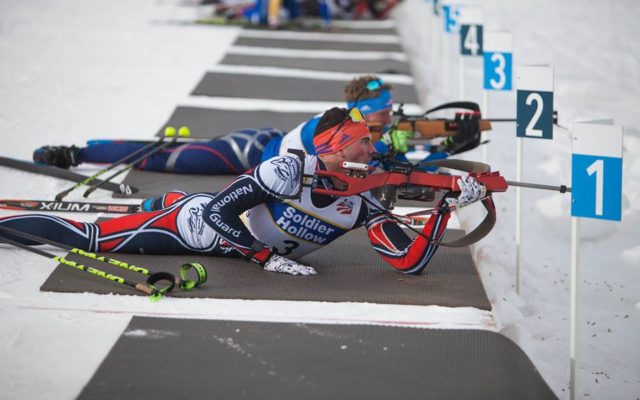 CODYJ_24237292
Cody Johnson of Fort Kent, wearing number 3, competes in the IBU Cup & Youth Junior World Team Trials in Utah on Friday Dec. 28. Johnson qualified to compete in the Youth/Junior World Biathlon Championship being held in Slovakia beginning Jan. 27. (Courtesy of Jakob Ellingson)
Fort Kent's Cody Johnson qualifies for biathlon championships in Slovakia
FORT KENT, Maine — A 21-year-old Fort Kent athlete who first learned about the sport of biathlon while participating as a 9 year old in the Jalbert Youth Ski Program at the Fort Kent Outdoor Center will make his fourth consecutive appearance at the World Youth and Junior Biathlon Championships.

Johnson qualified for the event at the IBU Cup & Youth Junior World Team Trials in Utah on Friday Dec. 28.
Johnson finished first in a 10K sprint, second in a 7.5K sprint and third in a 10K pursuit at the team trials to earn his spot on the USA Junior team.
"They definitely were not my best races but not my worst either. Going into them I felt really good, but once we arrived in Utah at altitude it was a little bit of a different story," Johnson said on Jan. 4. "It was hard to breath and I didn't really feel that fast on the snow, but I shot well the first race only missing 1 out of 10."
He said he feels more confident about competing at the world championships, which will be held in Slovakia beginning Jan. 27.
"I think I will do very well," Johnson said. He added that he is familiar with the course in Slovakia having competed there in the 2017 championships at the youth level.
Gail Johnson, Cody's mother said that her son's success as a biathlete is directly related to the training he received as a child participating in the Jalbert Program at the Fort Kent Outdoor Center.
"This community has always donated to Cody's training and competing so it really took a village and they can claim him as their own," she said.
Cody Johnson said he has "fond memories" of his childhood training in the Jalbert Program.
"It is quite possibly the best thing that ever happened to me. If it wasn't for that program I would have never started or be where I am today," he said.
Although Cody Johnson now lives and trains in Vermont as a member of the United States National Guard, he returns home to Fort Kent regularly. During his most recent visit home to celebrate Christmas, he gave back to the Jalbert Program.  
"(Jalbert Youth Ski Program coach) Carl Theriault had asked if I could help him out with a few up and coming biathletes that had just started shooting (while) standing and he wanted a little bit of insight from someone that had been doing it for 11 years, so I worked with five kids on just the basics," Johnson said. "I love helping out the younger programs; it's so awesome to see there are actually kids that are interested in this sport."
Although training for world class biathlon events is demanding, Johnson said he is driven to succeed.
"Training is hard. If it's not hard, then you're doing it wrong," he said. "Most of the time, it requires you to be in a spot where you're very uncomfortable and sometimes in a lot of pain but after you have done all the training and suffering through the long hours you get to watch what you did pay off. Sometimes that means you win races and I love to win.
"So that's what keeps me going with biathlon; it's the feeling I get when I make improvements on myself."
Johnson said he plans to stay in the sport as long as he can keep moving forward in his career.
"The second I don't think I can improve any more then I will call it a day," he said. "My ultimate goal is the 2022 Olympics and hopefully one or two after that."