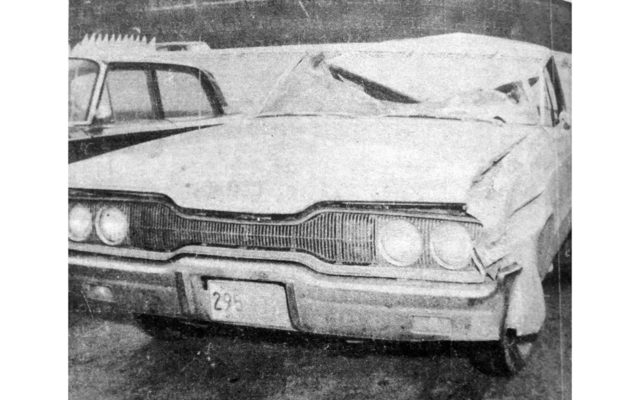 SJ_FROM_FILES_41-18_23778188
1,000 Pounds Of Moose Charges Car -- A male moose, said by spectators to weigh well over 1,000 pounds, came charging out of the ditch along U.S. Route 1 on Tuesday night and crashed into a Van Buren car headed towards Caribou. The three women passengers in the car were shaken up considerably, none seriously. The car was owned by Norman Thibeault of Van Buren. (SJVT contributed photo 1968)
From our Files — October 10, 2018
Valley happenings since 1957
50 Years Ago — October 10, 1968
Van Buren Man Receives Bars Of 1st Lieutenant  — Joseph Armand Deschaine of Van Buren, has recently received a promotion to 1st Lieutenant in the U.S. Army. He has returned to duty after spending two weeks at home with his family. His first assignment as maintenance officer took him to Seoul, Korea, where he has been stationed since.
Levesque And Crew Spud Speedway Favorites — The man mentioned here is Ernie Levesque, "The Flying Frenchman from Madawaska" who pilots the popular "Jade East Special." It's number is 29. Ernie Levesque and his crew this summer, as in the past, are a credit to stock car racing and a group to be admired for their sense of fair play and racing enthusiasm.
25 Years Ago — October 13, 1993
Bound Editions Are Back –-All bound editions of the St. John Valley Times are back home at the top of the stairs in the Times office on Main Street, Madawaska. The books have been away from home for nearly a year, first being microfilmed in New Hampshire, then being rebound in Connecticut. This is the only known full-sized complete bound edition of the Times. Microfilmed editions of the entire set is available through the Acadian Archives-archives acadiennes at the University of Maine at Fort Kent.
Top Essay Winners — Fifth-grader Heather Bouchard, third-grader Jayme Pelletier and fourth-grader Jill McDermott are the top winners in the Acadia School "Why I Want A New School" essay contest.
10 Years Ago October 8, 2008
Fixing A Mistake — Construction workers demolish a paved trail at 10th Mountain in Fort Kent that mistakenly was built on an abutting property owner's land. Maine Winter Sports Center wanted to make sure that all trails were located on its land and therefore voluntarily set out to fix the mistake.
Fort Kent Mural Nears Completion — Fernando Vallejo, an accomplished mural designer and painter, has been working on a project that will soon grace Fort Kent's downtown with an artist's rendering of "all the things that make Fort Kent great," as stated by project spearhead Reno Lagasse. The 8-by-48-foot mural is currently being painted on the side of the Wellness Center building on Main Street.