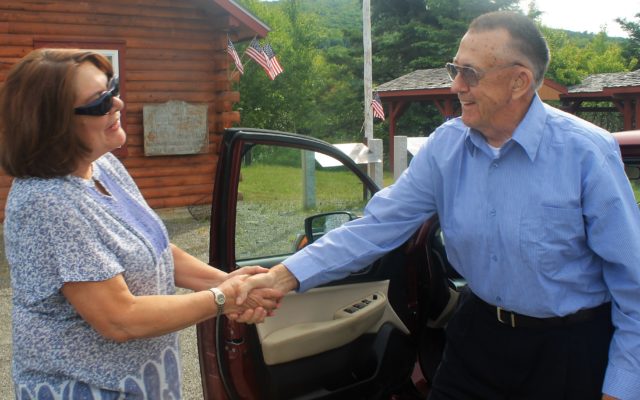 13899261_H23411444
Allagash Historical Society secretary Colleen McBreairty (left), meets with Gerald Stadig at the society building on Saturday, June 23. Stadig, originally from St. Francis, traveled to Allagash from his home in Harmony to deliver an outboard motor believed to be the first ever operated on the Allagash River. (Jessica Potila | SJVT/FhF)
Owner returns what may be first outboard motor to operate on Allagash River
ALLAGASH, Maine — Former St. Francis resident Gerald Stadig, 84, fulfilled a promise to a friend on Saturday, June 23, when he drove from Harmony to return a piece of history to Allagash.

Stadig delivered to the Allagash Historical Society what some believe to be the oldest outboard motor to ever operate on the Allagash River .
The 4 horsepower Caille Liberty Twin outboard motor came off the production line sometime between 1924 and 1928 and was originally owned by Joe Gardner of Allagash.
The motor helped to transport outdoorsmen on the Allagash and St. John rivers for fishing and hunting purposes.
Joe Gardner's nephew, Carl Gardner, while living in an assisted living center downstate, expressed to Stadig, his uncle's desire to donate the motor to the Allagash Historical Society. Stadig complied.
"I told my friend I'd like to do it for him," Stadig said. "I don't know how much longer I'll be able to do things."
Stadig contacted Allagash Historical Society secretary Colleen McBreairty to arrange a transfer of the outboard motor.
Prior to the arrival of the outboard motor in the Allagash region decades ago, sportsmen "paddled and pulled" their way along the river, according to McBreairty.
Stadig traveled from Harmony to Allagash with the motor in the trunk of his car.
"We're thrilled to receive the motor back," McBreairty said. "Our culture and our heritage have always been on the river, hunting, fishing, lumbering. To have the first motor back — we're thrilled about it."
Stadig said he examined the motor, and although it was no longer in working order, felt it could operate again with some minor tweaking.
For now, the Allagash Historical Society just plans to display the motor. The society is open during the summer months, Friday, Saturday and Sunday from noon until 5 p.m.
To contact the Allagash Historical Society, call (207) 398-3148.