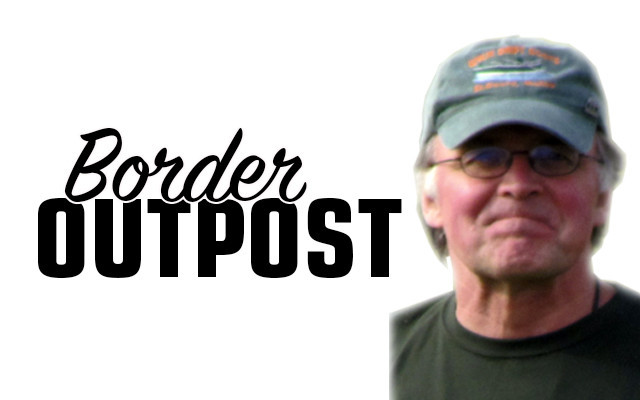 BorderOutpost-Wylie-640×400
What route one's roots?
I am reminded of ancestral roots in the strangest ways.
A friend, currently visiting Oregon, writes from a place called Medford. I look it up. Google Earth indicates that it's near the Rogue River National Park. The Rogue River is what the basic design of the river dory I have (in a somewhat disassembled state in my shop) is called.
On another tack, I discovered online that I have some distant relations with the last name Commanda. We are connected genetically through my mother's people. Since they are descended from some of my mother's ancestors, we have a shared portion of DNA, if miniscule. I'm pleased to find out we're related. They're clearly native, perhaps Maliseet or Penobscot. I welcome the connection.
Back to the Rogue River dory now. The boat, according to my research over the years is a distant relation to the Maine river-driving batteau. That design was carried across the country by Maine lumberjacks for work on the Rogue, the Klamath and McKenzie Rivers among others. The men were Mainers in search of work doing what they knew what best to do. The batteaux got adopted by the locals, modified to suit their river conditions and named Rogue and McKenzie accordingly. That's how I gathered the story went.
Now I take a giant sideways leap. A hero of mine is the great Edwin Tappan Adney. He was many things in this life; a writer, historian, linguist, well travelled and well-regarded by his fellow ethnographers, finally living out his days in a converted shed in Woodstock New Brunswick.  Adney was an ardent friend of the local Maliseet, devoted to the St. John River and its surrounding forests; living simply and frugally while he fashioned little wooden replicas of native canoes he encountered. Canoe makers and LL Bean owe him a debt of gratitude for preserving the lines of many of the canoes hand-crafted by hobbyists or stamped out in plastic at Old Town Canoe.
Adney's appreciation of the Maliseet canoe-building translated into becoming part of a book; The Bark Canoes and Skin Boats of North America. It was edited and written in large measure by another icon of mine; Howard Chapelle.  He's an altogether other story. The book is a go-to guide for canoe enthusiasts. I have my own copy, kept in the shop and referred to frequently.
Tappan Adney wrote another book in his younger years titled The Klondike Stampede. It described his experiences as a journalist and would be miner during the Klondike Gold Rush. Adney's bit of derring-do included hefting a Maine river-driving batteau in pieces up and over the Chilkoot Pass, reassembling it, and floating down the Yukon River to Dawson City with harum-scarum episodes in between. It's a great read.
Adney should be recognized for the work he attempted in documenting the Maliseet language. If anything, it is the language of the St. John River, the Wolastoq in that tongue. French and English are recent arrivals some several hundred years old. Maliseet, however, goes back several thousand years.
However tenuous that connection to the Maliseet may be, I welcome having it. It jibes with something ancestral; finding those connections we have to a people and a place. Having built a St. John River-driving batteau with John Connors connects me to Adney as well and the river that figuratively flows through my veins.
Isn't that what ancestry is all about?
Dave Wylie's life and work experience runs the gamut from newspaper editor to carpenter to grant writer to boat builder with lots of other work wedged in-between. Wylie currently is president of a management company that oversees an elderly housing complex and president of the local historical society. He resides in Madawaska.